Millgate's 'dream home' triumphs at the Evening Standard Awards 2012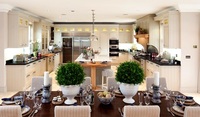 Twyford-based Millgate Homes' unprecedented run of wins at the Evening Standard New Home Awards has continued, as the luxury house-builder walked away with another award at this year's event: 'Best Family Home' for the exquisite Beech House, located in Boars Hill, Oxfordshire.
Millgate Homes is, undoubtedly, a familiar name to many in the industry, as it is a regular feature on the winner's list, having picked up the same award last year for its property in Wargrave, as well as walking away with the coveted Eros statue for 'Best New Home', three times in the last five years. This all adds to the house-builder's burgeoning collection of industry accolades.
It is Millgate's unwavering commitment to quality craftsmanship and superior specification which have no doubt seen it recognised again, as Graeme Simpson, chairman at Millgate Homes, explains: "It's our belief that there's no room for compromise when it comes to creating perfection, which is why we never stop seeking to raise the bar when designing our homes – right down to the smallest detail. This has helped to contribute to the success of our homes, which continue to amaze both purchasers and the judges at the Evening Standard Awards.
"Needless to say, we're thrilled to have won another award. It is a genuine reflection of the commitment of the entire Millgate team to build exceptional properties, such as Beech House, and an achievement of which we are all exceptionally proud."
Beech House was described by one Evening Standard reader as his 'dream house', and the judges commented: "It has many of the features of a luxury home – including a swimming pool – but still feels homely and comfortable."
It's this perfect synergy, providing a luxury lifestyle, in an opulent setting, while also remembering the practical requirements of today's modern family, which Millgate Homes does so well.
Beech House epitomises this ethos. The five-bedroom show home is set in a generous two acres of land and, spread over three storeys, includes a vast open-plan room, with a kitchen, sitting area and dining space, making it ideal for family living, as well as a master bedroom to rival the type of luxury suites found in the world's top five-star hotels. It also boasts a heated outdoor swimming pool, with summer house, plus the use of a tennis court.
As if this weren't generous enough, extra accommodation can be found above the triple garage, in the form of a self-contained cottage, which provides an additional bedroom, bathroom and open-plan kitchen and living room.
It's no surprise that Beech House has already been sold. However, purchasers hoping to invest in a home of similar award-winning calibre will be glad to hear that Tudor-inspired Radcliffe House, in Boars Hill, is available for £3.85m.
Purchasers can see just what made Beech House a worthy winner, and the similar calibre of Radcliffe House, by viewing a video of the properties online.
To find out more about Radcliffe House, visit millgatehomes.co.uk.