Make your first home a Redrow home in Telford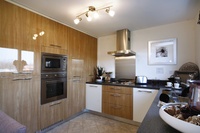 With the chance to save thousands off the initial price of a brand new home, a visit to Trenchwood Gardens is a must for first time buyers in Telford.
A choice of two and three-bedroom homes are now available at the popular Redrow development. And, thanks to FirstBuy, they're within the reach of first time buyers who may otherwise be priced out of the property market.
Pauline Turnbull, sales director for Redrow Homes (Midlands), explains: "FirstBuy helps make setting up home easier to afford as eligible customers may only need a 5% deposit. They'll be able to defer paying up to 20% of the purchase price thanks to a FirstBuy loan, which should make their monthly mortgage repayments more manageable. It's a fantastic way to make that crucial first step on to the property ladder."
Prices at Trenchwood Gardens start from £122,995 for a two-bedroom Evesham style property.
With a FirstBuy loan for up to 20% of the purchase price, it means that the customer only has to apply for a mortgage for 75% of the property's value.
As a result, there are homes available from just £98,396 with the equity loan covering the remaining share. This loan is interest free for five years and can be repaid when the customer has more funds available or when they resell.
"Buying a brand new home is ideal for first time buyers who perhaps don't have the time, money or the skills to carry out repairs and renovations that an older property may need," Pauline added.
"Plus they won't have to find extra cash to buy essential white goods as our standard specification includes integrated top brand name kitchen appliances such as microwave, oven and fridge freezer are fitted as standard."
As well as starter homes, Trenchwood Gardens also includes three and four-bedroom family homes.
With the M54 within easy reach, along with Oakengates railway station, the homes are well placed as a base for commuters. Telford town centre is just a short journey away offering a wealth of amenities and attractions.
To find out how Redrow could help you buy your first home visit Trenchwood Gardens, where the show homes are open daily from 10am to 5.30pm.
For more information see redrow.co.uk.