Menzies Welcombe Hotel awarded TripAdvisor Certificate of Excellence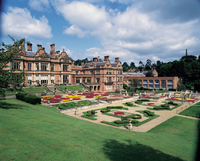 The Menzies Welcombe Hotel Spa & Golf Club has announced that it has been awarded the prestigious 2012 Certificate of Excellence award by TripAdvisor. The luxury country house hotel has been consistently commended by travellers with the highest praise, and TripAdvisor has therefore recognised the high number of positive reviews as an exceptional achievement. Only the very best hotels are awarded a Certificate of Excellence.
Greg Fehler, General Manager of The Menzies Welcombe Hotel, stated ""We are delighted to have been awarded the Certificate of Excellence which is testament to the exemplary high standards and commitment to excellence we maintain. The award is a fantastic achievement and recognition of the hotel being one of the leading luxury country house hotels in the region".
Located on the outskirts of Stratford-upon-Avon, the Menzies Welcombe Hotel is situated just 5 minutes from junction 15 of the M40. Visit the website for more information at welcombehotelstratford.co.uk.