Unique accommodation signals the start of a great holiday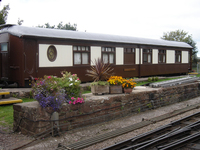 Treat yourself to an extraordinary holiday this year and steam off for a railway reccy that can see you staying in the last Pullman coaches available as holiday accommodation in Britain, or in a cottage, which was once a railway's general office.
This unique accommodation is located in the lovely coastal hamlet of Ravenglass, on the Cumbrian coast and owned by the narrow gauge Ravenglass and Eskdale Railway. Situated on the station complex at Ravenglass the two Pullman coaches, 'Elvira' and 'Maid of Kent', and the very different Hilton Cottage have personality aplenty and are ideally placed for those wanting a boy's own adventure – whatever their age or gender!
'Elvira' and 'Maid of Kent' were originally built as ambulance cars during the First World War and both sleep up to six people in three separate bedrooms. Bedroom one and two both have two single bunk beds, while bedroom three has two single beds. Each room has a washbasin, but there is also a bathroom with toilet and an electric walk-in shower.
Heating in the Pullman coaches is provided by storage heaters and there is a well-equipped kitchen in both, offering fridge, small freezer, kettle, microwave, toaster, steamer, oven, two electric hob rings, sink and drainer, plus pots, pans and utensils.
Ambience in the living and dining room area comes from Edwardian inlaid wood panelling, but modern touches are provided by colour TV, storage heater, electric fire and table and chairs seating up to six.
Hilton Cottage was built in the 1920s, but this atmospheric bungalow, once station store as well as office and named after Harry Hilton, General Manager of the Ravenglass and Eskdale Railway from the 1920s until 1959, has been fully refurbished.
Two bedrooms – one double and one with two single beds – sleep up to six, taking into account a double bed settee in the large and comfy lounge-diner. Colour TV with Freeview and a well equipped kitchen with full-sized electric cooker, washing machine, fridge-freezer, toaster, kettle and utensils and pots and pans, are all available for use and heating is provided by fan and storage radiators, or by an open fire, if guests wish to use the coal and logs provided to create a special ambience on colder days.
Coaches and cottage are identically priced in their weekly rental rates, ranging from £320 to £500 per week from May to November 3. Rental prices include water, electricity and parking at the station throughout the stay. The person renting the accommodation is offered free travel on the Ravenglass and Eskdale Railway and all other guests can pay just 25% of the normal ticket price to experience the magic of steam. A reduction on admission to nearby Muncaster Castle and Gardens is also available.
While there is plenty of equipment to encourage the cook to rustle up food, guests can also be tempted by the station's Turntable Café, which has a range of delicious, home-made food on offer daily. This might be an early bird bacon or Cumberland sausage bap with tea or coffee for just £3.80, or an afternoon cream tea: a tasty main meal, or a warming bowl of soup.
The accommodation and the exquisite seven-mile Ravenglass and Eskdale Railway journey, encourage exploration of the Western Lake District, home to Wastwater – the location of Britain's Favourite View – historic Whitehaven, charming Cockermouth and England's highest mountains, in whose shadow the Railway's Dalegarth Station lies.
Acclaimed walker, Alfred Wainwright, produced bespoke walks for the Railway nicknamed 'The Ratty', which can be enjoyed by buying a little booklet of these illustrated gems called ' Walks From Ratty'. Each walk starts and ends at one of the Railway's stations, whether the walker wishes to visit Dalegarth Force (Stanley Force) or the summit of Harter Fell. Each booklet sale generates a donation to local conservation work.
Cyclists can arrange to put their bike on to the train, travel to Dalegarth and then follow one of the routes available from the Railway – even cycling back to Ravenglass if they wish to follow the Eskdale TRail route available for purchase in the shop at Dalegarth.
Ravenglass itself is well worth exploring, having a Roman bathhouse just a short walk away from the station, as well as a lovely coastal inlet and quaint cottages. Nearby attractions include Muncaster Castle and Murthwaite Green Trekking Centre, while in Whitehaven families might wish to visit The Rum Story.
The Ravenglass and Eskdale Railway has a year-round events programme, which can add a touch of family fun over and above the thrill of staying at a station, or diversions such as a wine quiz or a fish and chip supper.
Go to ravenglass-railway.co.uk to find out more about the accommodation.