The Crucial Sauce Company spice up Her Majesty's Diamond Jubilee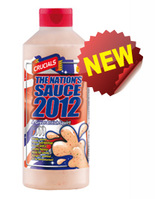 With Brits set to spend a substantial amount of their hard-earned cash on celebratory snacks, the Queen's Diamond Jubilee has provided a splendid opportunity for FMCG brands to roll up their sleeves and make a unique contribution to the nationwide affair.
The Crucial Sauce Company are proud to declare that they've been making Britain squirt with their 20-strong range of tantalising sauces since 2001, so for these condiment connoisseurs, it was only natural to lend their expertise to the cause. Just in time for the 16th National BBQ Week, which runs from 28th May – 3rd June, Crucials have concocted "The Nation's Sauce 2012", a smoky mayonnaise and ketchup fusion laced with a hint of spice; a brand new sauce inspired by the Nation's favourite flavours from around the globe.
The 500ml bottles of limited edition sauce will be available from a number of selected outlets throughout the Jubilee period, including the Range, B&M Bargains and a number of UK independent retailers.
Advertising agency Hive Manchester have enjoyed a long-standing professional relationship with The Crucial Sauce Company since being approached in 2008 to aid brand development. Gabe Gabriel, managing director of Crucials, said, "Hive have without doubt been key in our growth, they have demonstrated fantastic creativity and understanding combined with the ability to turn basic ideas into visual concepts and products."