Fantastic offer on first-time buyer properties in Hockley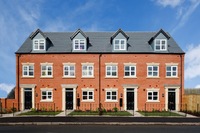 Local housebuilder Morris Homes is offering buyers looking to take their first step onto the property ladder a helping hand with the FirstBuy scheme at its popular Hockley development.
Morris is urging first-time buyers to take head to its Aston Place site on Lodge Road where a selection of the final new build properties at the development are available with the Government-led FirstBuy scheme.
With the FirstBuy scheme first-time househunters are able to purchase a house at Aston Place for 80 per cent of its market value, allowing them to benefit from a lower deposit requirement and smaller monthly mortgage repayments.
Morris is also offering a host of stylish extras on each of the four last remaining homes, providing a full curtains and carpets package, a furniture package, £500 towards legal fees and a set of modern household appliances at each property.
Cindy Vials, regional sales director at Morris, said: "Unlike second-hand properties, our new build homes at Aston Place are fantastic for first-time buyers because they have no renovation costs.
"The FirstBuy scheme allows househunters to own their first home without having to worry about saving for a large deposit. Combine this with the great finishing package available and buyers can be settled in a modern, beautifully-designed home in a matter of weeks."
Aston Place is located just minutes from Birmingham city centre and the region's vibrant Jewellery Quarter, making it ideal for both families and commuters.

Cindy added: "With a host of amenities and public transport links on their doorstep, it's not a surprise that there are just four of stunning homes left at Aston Place. We urge interested buyers to head to the sales office before they miss out on their dream home."
Morris has only four properties remaining at Aston Place, which includes two three-bed town houses and two four-bed detached homes, starting at £129,950 under the FirstBuy scheme.
For more information, visit morrishomes.co.uk.