Miller Homes opens the doors to first time buyers at Northcote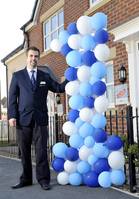 Miller Homes has announced that almost three quarters of recent sales at its Northcote development have been to first time buyers taking advantage of FirstBuy; and in a bid to provide a helping hand to those looking to get on the property ladder, the housebuilder is teaming up with local Independent Financial Advisors (IFA) for a dedicated First Time Buyer event.
From 4pm to 7pm on Thursday 7th June, visitors to Northcote in Erdington can take advantage of free and confidential advice and support from an IFA, meaning they can find out there and then how to make the numbers add-up in their quest to own a home of their own. They will also have the opportunity to talk to the experts to see if they qualify for the tried-and-tested FirstBuy scheme, which has been designed to make homeownership more affordable by reducing the mortgage amount needed to buy a new property.
Prices at Northcote currently start from just £147,950 for the two-bedroom Aston – or from as little as £118,360 for those who qualify for FirstBuy.
Helen Pierson, New Homes Relationships Director at Linear Financial Solutions, who will be on hand at the first time buyer event at Northcote, offered some top tips for those thinking of taking their first steps towards homeownership.
"You can make a very good start on this very exciting journey by working out what proportion of your income you can spend on your mortgage each month", Helen explained. "This is as simple as writing down your monthly income and expenditure. It is not as daunting as it sounds and will help to narrow your search by identifying the kinds of properties that fit with your budget.
"Mortgages aren't rocket science, but if you're finding the facts and figures difficult to understand and there is no clear information about the criteria used by banks to assess mortgage applications, simply speak to an Independent Financial Adviser. It is our job to explain in plain English exactly what lenders are looking for and the kind of information you will need to supply to them. We will also be able to help you work out the kind of monthly repayments you will be able to afford, and you will be under no obligation to proceed with the purchase.
"Finally, don't let the fear of the mortgage application process or the fear of having a mortgage application declined stop you from seeking advice. This is a good time to be fearless and go for what you want!"
FirstBuy is available on selected properties at Northcote. The government-backed scheme allows eligible buyers to purchase 100 per cent of the home while only paying up to 80 per cent of the value now, with both Miller Homes and the Government equally funding the remaining 20 per cent through an equity loan.

Ann Crick, Sales Director at Miller Homes West Midlands, added: "Many young professionals are stuck in the rental trap and think that owning a home is out of their reach. However, the recent run of sales at Northcote shows that FirstBuy really is effective when it comes to helping buyers onto the property ladder. With low deposits, competitive prices and a choice of homes available to move into now, we are challenging those who are currently renting or living with parents to drop in and speak to our sales advisors and independent experts on Thursday 7th June. They could discover a home of their own is well within reach."
Situated on George Road, just a five mile commute from Birmingham city centre, Northcote is a well-established development where prospective purchasers can currently choose from a range of two, three and four bedroom homes.
For more information on Northcote, visit millerhomes.co.uk.