'Queen's Beasts' to visit East of England Show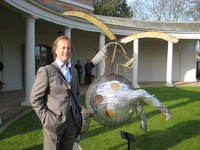 As well as over 1,000 livestock at the East of England Show – visitors will be able to see some creatures of a non-furry or fluffy nature, as part of the Diamond Jubilee year celebrations.
An impressive collection of 10 new metal sculptures of the Queen's Beasts will be visiting the region's premier family event at the East of England Showground as part of a UK tour.
Peterborough is one of the venues to help showcase the statues, made by St Neots-based artist Tim Hiscocks – who has spent the past three years exploring the identity and representation of the heraldic Beasts.
Original plaster versions were made to represent the genealogy of the new monarch, and to flank the Queen's entrance to Westminster Abbey on her Coronation Day in 1953.
The originals ended up in Canada, and 10 stone copies were made to stand guard outside the Palm House at Kew.
The new statues – just like the Queen – are now on tour during this Jubilee year.
The 10 Beasts have been created using recycleable materials and other metals to fit in with the artist's feeling about caring for the environment.
These include drinks cans, bedsprings, hub caps, car bumpers and headlights, and even a fire extinguisher.
And before they take up their majestic place at the East of England Show on July 6, 7 and 8, the Beasts have already received the Royal seal of approval by the Queen during her recent visit to Valentines Manson in Redbridge.
The Beasts were part of an exhibition celebrating 60 years of British art and design.
There are many highlights of this year's East of England Show including:
A 'village' style layout, leading visitors to areas of specific interest – including retail, livestock, food hall and equestrian.

A business hub for on Friday, to include a Ladies Day and a large-scale networking opportunity for the local business community.

The popular Championship Dog Show.

An impressive food court displaying tasty local and regional produce.

A new Heritage Area to showcase the British Festival of the Working Horse.

A packed programme of events for schoolchildren, including the Queen Mother's Handwriting Competition, the chance for budding chefs to make their own pizza and the opportunity to get up close and personal with cuddly animals!

Heart FM's Heart Angels will be visiting on the Friday

An open air concert featuring X Factor finalists Marcus Collins and Janet Devlin on the Saturday evening.

For more information about the East of England Show or to book tickets, visit eastofenglandshow.co.uk.