Local developer urges first time buyers to take advantage of scheme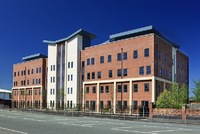 Experts are warning that Manchester first time buyers are unknowingly missing out on an easier way to get onto the property ladder by not considering the government-led FirstBuy scheme.
A recent survey suggested only 16 per cent of first time buyers had heard of the scheme, with many having to rely on friends and family to get the money to move.
Local housebuilder Morris has seen interest in the scheme pick up in the last few weeks as people start to realise the benefits of FirstBuy and how it can get you on the property ladder. Currently available at the East Gate development, off Victoria Avenue East, the scheme enables first time buyers to purchase a home for just 80 per cent of its market value, with only a five per cent deposit.
Regional sales director for Morris Homes Chris Minshall said, "There is a lot of help out there for first time buyers, they just need to know where to look.
"The scheme means that househunters pay a lower deposit and smaller monthly repayments making it a more convenient way to own your own home, with less stress and hassle."
A range of two bedroom apartments are available at Morris' East Gate development with prices starting from just £86,200.
For more information about the development, visit morrishomes.co.uk.