Lighten up your lunch - Good Natured Summer Salads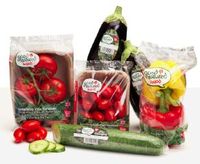 Eating healthily just got easier with Good Natured's range of mouth-watering salads. Crisp, crunchy and colourful, Good Natured's pesticide residue free Tantalising Tomatoes, Cool Cucumbers, Perfect Peppers and Awesome Aubergines are packed with natural nutrients to see you through the summer months.
Good Natured use only natural predators (good bugs) to control pests (bad bugs) and disease, so you can be assured that the range is grown in tune with mother nature, completely pesticide residue free. The produce is both good by name, and good by nature.
Good Natured Tantalising Tomatoes are a sweet celebration of summer, bursting with sunshine and goodness. Did you know that tomatoes are full of the antioxidant lycopene, which has been linked to protecting your skin from the sun! For a light lunch, try lightly grilling the tomatoes on the BBQ with garlic and basil, then press the fragrant mixture onto toasted ciabatta and top with a slice of good mozzarella with salt and cracked black pepper.
Enjoy the sweet flavour and fresh aroma of Good Natured Cool Cucumbers, a low calorie vegetable with antioxidants and anti-inflammatory properties. Chop the cucumbers up with feta, tomatoes and olives, then drizzle with olive oil and balsamic vinegar for a delicious Greek Salad.
Good Natured Perfect Peppers are so sweet and crunchy they can be chopped up and enjoyed on their own or dipped in houmous. Peppers have more than twice the vitamin C found in an orange so get crunching! Don't forget peppers are also wonderful grilled on the BBQ with their skins removed as a great standby for antipasti.
The smooth and fleshy texture of Good Natured Awesome Aubergines gives them a creamy, smokey taste. Delicious charred over a BBQ or flame until blackened, then mash the flesh with garlic, lemon juice, tahini and chilli for a simple Baba ganoush.

Good Natured has created a refreshing Gazpacho recipe which uses a combination salad fruits. What's more, all the ingredients are raw for maximum vitamin goodness. Enjoy al fresco on a warm sunny day…
Good Natured Gazpacho
Serves 4-6
1 kg ripe Good Natured Tantalising Tomatoes, roughly chopped
3 cloves garlic, peeled and chopped
4 spring onions, trimmed and chopped
1 red Good Natured Perfect Pepper, deseeded and chopped
¾ Good Natured Cool Cucumber, chopped
75ml extra virgin olive oil
2 tbsp red wine vinegar
Seasoning
1 avocado, peeled de-stoned and chopped 4 eggs, softly boiled
1. Place the tomatoes, garlic, spring onions, red pepper and cucumber into a food processor or blender, and blend until finely chopped.
2. While the machine is still running, slowly pour in the olive oil and red wine vinegar.
3. Season and taste then add a little more vinegar or oil if you think it needs it. Chill until needed.
4. Serve in shallow bowls, garnished with chopped avocado and halved softly boiled eggs.