Single living in Northampton at an affordable price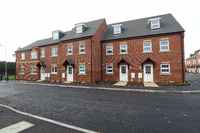 For individuals looking to ease the financial 'penalty' of choosing to live alone, shared ownership schemes such as the one offered by Genesis at Highfields in Brixworth, Northampton offer first time buyers the chance to get a foot on the property ladder without overstretching financially.
Brixworth is becoming a popular choice for single buyers seeking good value property. But while the current average price of a one-bedroom property stands at £65,000 (source: nestoria.co.uk), for many individuals raising a deposit and securing a mortgage is impossible.
Highfields offers a stylish collection of new homes, specifically designed for first time buyers. New homes start from as little as £17,500, for a 25% share based on a full market value of £70,000 for a one-bedroom apartment. Purchasers buy the share of their home that they can afford (at least 25%), and pay subsidised rent on the remaining share of the property, usually resulting in lower monthly costs than renting on the open market. They can increase the share that they own at any time, right up to 100%.
The one bedroom maisonettes at Highfields are ideal for buyers keen to reap the benefits of split-level living. Each maisonette has its own entrance which is often preferable to sharing a communal space within an apartment building. The properties feature a fitted kitchen designed to a great specification featuring contrasting wood finish cabinetry, granite style work surfaces and vinyl flooring. There is also an Electrolux oven hob and extractor fan.
Each home also features a spacious master bedroom with fitted wardrobes, separate storage cupboard and separate bathroom. The bathrooms are designed with white wall tiling, vinyl flooring, thermostatic showers, a mirror and a towel rail.
A living/dining area fitted with cream carpets, provides a great space to relax and entertain after a hard day at work. A secure parking space is available with every property and there is additional parking available.
Suitable for a wide range of buyers, Highfields offers a great opportunity to enjoy Brixworth's village atmosphere and get involved in the local community. Perfect for people looking to enjoy a rural lifestyle and the great outdoors, it is located near Brixworth Country Park, which offers stunning views over the Pitsford Water, where residents can enjoy cycling, walking, sailing and fishing.
For people looking for an extensive range of shopping facilities, Brixworth is located within a short drive of Grosvenor and Weston Favell shopping centres in the centre of Northampton. Alternatively, for those who love healthy and organic produce, Daventry's farmers market is a 40 minute drive away, offering locally produced goods produced within a 30 mile radius of the market.
For travel by road, the M1 and M6 motorways are within six miles of Brixworth, providing access across the country. By rail, Northampton Railway Station is also six miles away, which provides a regular service to London Euston in just under an hour.
The shared ownership properties at Highfields are available to anyone who doesn't already own a property and is unable to buy a home on the open market. Their total household income must be less than £60,000 per annum and it is recommended that they have savings of around £3,500 to cover moving and legal costs.
For more information, visit genesishomes.org.uk.