There's more than one reason to visit Uganda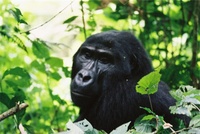 Known as "gorilla country," Uganda has a few extra plus points this year.

Neighbouring Rwanda also offers options to view the gorillas, but at a much heftier price tag. The Rwandan permit increase (to USD $750) which is set to take effect this June will make the activity $250 US dollars more expensive than Uganda. However, it's not just the cost that makes Uganda the preferred choice, the country is beautifully scenic, marvelously green and wonderfully friendly; Lonely Planet giving the country the top spot on its 2012 "must visit" list.
Yet another reason to celebrate on the continent, Acacia Africa is offering discounts on many of its 2012 Uganda focused overland expeditions if booked before 30 June. The tours which range from 06 to 58-days include a trek and one hour audience with the mountain gorillas in the mountainous southwest corner of Uganda, and the opportunity to go ape with their companions, the chimpanzees in the nearby Queen Elizabeth National Park.
Leanne Haigh, Project & Development Manager at Acacia Africa comments "This forested region is home to over half of the world's remaining mountain gorillas and it is the only place in Africa where both the silverback and chimpanzees reside. A once in a lifetime experience, there are at least nine other primates occupying the same region, and the dense jungle is home to a much more varied collection of wildlife than other parts of East Africa, the park surviving the last ice age."
A year to remember, 2012 will also see Uganda celebrating its 50th anniversary of independence (09 October 1962), with an extensive programme of festivities being planned to mark the event.
Acacia Africa's Top Tips For Gorilla Viewing
Pack mini & share: Sunblock, insect repellent and a first aid kit are essentials!

Bring plenty of water – you might be trekking from anywhere between one and five hours – sweets, dried fruits and nuts are ideal for an energy boost

Wear neutral colours and comfortable worn in shoes for trekking

Be ready with a rain jacket and wear long sleeves and trousers to protect you from stinging nettles

Take a walking stick or hire a porter to carry your backpack (bring US dollars to tip)

Charge your camera batteries, but remember no flash photography and move in slowly when you're taking pictures

Keep a distance of at least seven-metres between yourself and the gorillas at all times

Observe the band and enjoy the experience, but don't make eye contact
Overland prices with Acacia Africa are no single supplement and include camping accommodation, transport, most meals and services of a tour leader/guide. 20% discount excludes local payment and all prices are subject to availability and exclude return flight. 18-years +. For more information, visit acacia-africa.com.