Tourism business to bring jobs to Chippenham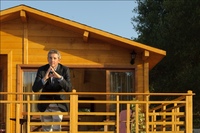 A newly launched holiday lodge business based in Bradford on Avon is already planning to expand and double its workforce.
Holiday Lodge Group, started up by businessman Alex Joll at the start of 2012, is being launched to the public at the Park and Holiday Homes Show, in Newbury, at the end of this week (18-20th May).
The company, which operates a fractional ownership plan for a group of luxury UK lodges, currently has three members of staff but the response to Holiday Lodge Group has proved so positive that Alex plans to expand the number of employees to eight and move the office to Chippenham.
Alex, who grew up in Bath and now lives with his family in Broughton Gifford, said: "The last six years of my life were devoted to running a holiday lodge park in Spain but I have always thought of Wiltshire as one of the most beautiful parts of the world. It seemed logical to go back to my roots and start up a new company here.
"From our research we knew it was a product people were interested in but it has grown through word of mouth much quicker than we expected. We have been listening to what people want and they are as passionate about the UK countryside as I am so we have set up lodges in some of the favourite locations – Cornwall, Devon, Surrey, Wales and the Lake District."
Recent research has shown the staycation trend is set to continue with over three-quarters of Brits planning at least one domestic holiday in 2012 and 47% planning to take two or more*. The later retirement age is also expected to contribute to a rise in holiday home ownership in the UK.
The expansion of Holiday Lodge Group means Alex will be moving offices at the end of June and recruiting for new positions in administration and sales.
Holiday Lodge Group offers UK holidaymakers the opportunity to make a one-off payment of as little as £3,000; owners can then enjoy a week's stay (minimum) per year in any of the UK lodges for the next 12 years. When the lodges are sold at the end of the 12 years, owners will also receive a percentage of the initial payment back – typically between 50 and 75%.
"One of the best parts of the company expanding is that we are already looking at other destinations for new sites around the country. With so many beautiful locations, we will be looking to our investors for their opinions as it shouldn't be up to us to decide – we're not the ones staying there.
"We are very pleased with how everything has gone so far and hopefully we will continue to go from strength-to-strength," said Joll.
To find out more about Holiday Lodge Group and current employment vacancies, visit HolidayLodgeGroup.com.