Prepare to be very naughty on Xbox 360 and PlayStation3 in 2012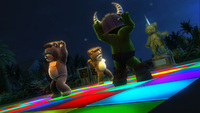 Videogame publisher 505 Games and developer Behaviour Interactive have announced Naughty Bear: Panic in Paradise for Xbox LIVE Arcade for the Xbox 360 video game and entertainment system from Microsoft and PlayStation Network. Players will take on the role of Naughty Bear who is once again shunned and outcast by the inhabitants of Perfection Island. They've departed for the luxury holiday destination of Paradise Island but haven't invited poor Naughty Bear along. Armed with a hit-list of bears that have wronged him, Naughty is going to make them pay, one by one.
"Following the success of our first outing with Naughty Bear, we really wanted to push the limits and give players a lot more freedom to be as naughty as they can and help Naughty Bear get revenge on the other bears who have been so mean to him" said Victoria Reeve, Senior Global Brand Manager, 505 Games. "With the first Naughty Bear game audiences responded well to the juxtaposition of cuddly innocence, with dark humour and over the top violence. We're really looking forward to seeing what they make of all the great new features we've packed into Naughty Bear: Panic in Paradise."
Naughty Bear: Panic in Paradise takes everything you loved about the first game and brings a whole new level of naughtiness Thanks to a completely over-hauled combat system, brand new levelling up system, equipment customisation with thousands of combinations and over 30 mission set across 11 distinct areas of Paradise Island there really is a whole new world for players to explore and unleash their inner-naughty in as many ways as they can imagine.
"Naughty Bear really struck a chord with gamers looking for something more than the same old gameplay," said David Osborne, Executive Creative Director at Behaviour Interactive, "With Naughty Bear: Panic in Paradise, we're turning the naughty dial all the way up to 11!"