Renaissance Blood THD for Nvidia Tegra 3 devices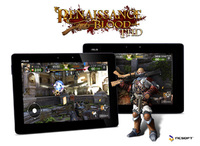 NCsoft is excited to announce the release of the publisher's latest title, Renaissance Blood THD (Tegra High Definition), on the Google Play Store.
Developed by Korean FPS masterminds BRIDEA and published by NCsoft, Renaissance Blood THD is designed specifically for the NVIDIA Tegra 3 processor and built using Unreal Engine 3. The story takes place in the Renaissance era where science and alchemy set the rules and players are challenged to find the final blueprint that the great Leonardo da Vinci has left behind. With stunning visuals, pick-up-and-play controls and immersive gameplay, the action-packed thriller dares to raise the bar for first-person shooter titles on all platforms.
Renaissance Blood THD is available for £2.58 to download worldwide on the TegraZone app, NVIDIA's free app that showcases the best games optimized for the Tegra processor.
"Renaissance Blood THD is only the beginning of a truly amazing experience," said Hanjin Oh, Director of the Mobile Business Division at NCsoft. "It's the perfect combination of state-of-the-art technology and masterful craftsmanship, and we are genuinely proud to finally present this title to gamers everywhere."
"We're pleased to have collaborated with BRIDEA and NCsoft, which share our heritage in PC games and commitment to deliver stunning visual experiences," said Ashutosh Rege, Vice President of Game Content & Technology at NVIDIA. "Our joint work on Renaissance Blood THD has created a game that ends all doubt that the era of console and PC quality gaming on mobile devices is finally here."
Main Features
Designed specifically to take full advantage of devices using NVIDIA Tegra 3 quad-core mobile processor with its 4-PLUS-1 quad-core CPU architecture that delivers outstanding performance and amazing battery life, plus a 12-core GPU, to deliver up to 5x the performance of the world's first dual-core processor, Tegra 2.
Intuitive controls for players of all levels
Dynamic character lighting and gamma correction for more realistic light calculations
Interaction of scene objects using advanced physics simulation
Device Requirements
NVIDIA Tegra 3 powered phones and tablets
Pricing and Availability
Priced for £2.58 – or equivalent amount in other currencies – and available worldwide exclusively through the Google Play Store.