Vintage inspired, French style or design-led oak furniture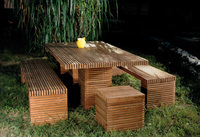 Whether you are looking for indoor or outdoor furniture, Bluebone offers an inspiring collection of unique and distinctive pieces of furniture. Over 1000 pieces from Vintage Inspired over French Style to Design-led Oak are available for truly inspiring homes and gardens.
Bluebone's outdoor collection of designer teak dining sets and repro café style chairs make this desirable collection to make the most of this summer.
With the trend for all things vintage, retro, quirky and unique currently sweeping the nation the distinctive styles from our heritage - once considered utility, now take on a style of their own. Bluebone offers a mix of industrial, reclaimed, antique and modern treasures for your home and garden. Bespoke options are available for selected ranges.
For more than twenty years Bluebone has been building an admirable reputation in the furniture world for innovative design, quality of manufacture and materials, reliable delivery and dedicated after-sales service.
With offices and warehouses in Manchester, our distribution and service capability encompasses the UK and all of Ireland.
All prices listed are approximate. For further information and local stockists, visit bluebone.co.uk.