Biggest fun fair on the Rhine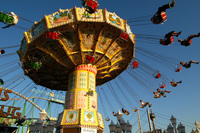 400,000 visitors per day can't be wrong: Düsseldorf's "Biggest Fun Fair on the Rhine" (13 - 22 July 2012) is a summer festival superlative and simultaneously one of the best-kept summer secrets among German fests. The 10-day fun fair attracted a record-breaking 4 million visitors last year and has grown into a serious new party and family destination in its own right.
The morning-to-night festival is a bona-fide German fest, the kind that is meant to be a respite from everyday life for absolutely everyone from old to young and transforms a whole town for days. The festival began 500 years ago as a local club celebration, and its main feature, the outdoor fair, is now in its 111th year.
The fun fair is a harmonious mingling of beer fest and family fun: 42 acres of tents, with purveyors serving the local Alt brew and many culinary treats, as well as a temporary amusement park, built right on the river, so big and modern it rivals some of the biggest permanent parks. State-of-the-art roller coasters and other amusement rides transform the skyline, and tens of thousands visit daily, many by ferry from across the river, the home of Düsseldorf's Altstadt (Old Town) and its Longest Bar in the World (260 bars, pubs and restaurants in under a mile).
Another major attraction is the huge fireworks display on the last Friday of the fair (20 July 2012). There will also be a parade featuring 3,000 marchers in uniforms and on horseback and orchestra performances to complete the German fair experience and, like the city, bridge the traditional and the modern. Another example of tradition meeting today: For 22 years now, the Monday of the fair belongs to the gay community, and 50,000 celebrants join the celebration, turning the day into "Pink Monday."
The Biggest Fun Fair is one of the most successful seasonal attractions in a city that has seen its overall visitor numbers growing by leaps and bounds in recent years. International travel to Düsseldorf grew by 9% in 2011 over the previous year.
Special hotel and travel packages for the fun fair event, starting at € 52 per person, are available through Düsseldorf Tourist Board. For more information, visit visitduesseldorf.de.