Award winning Tiddley Pom hits the High Street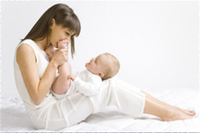 The creators of Tiddley Pom understand that there is nothing more important in life than bonding with your baby, and that time spent together is priceless and to be cherished. With this in mind, they have produced a stand out range of easy to use, pleasurable and effective organic mother & baby home spa products, which have already won huge acclaim and several high profile awards. Tiddley Poms' success has now seen them hit high street with three gorgeous baby spa gift sets.
The Tiddley Pom range uses eco-certified, organic ingredients and in whole comprises a massage oil, soothing lotion, baby wash, nappy balm, three music CDs and an instructional baby massage DVD. The brand new gift sets, priced at £5, £10 and £15, combine a mixture of these gorgeous products and all come with a with an instructional baby massage booklet to help you make the most of the time you spend with your little one.
Designed by a leading team of experts in cosmetic formulation, aromatherapy, massage and music, the Tiddley Pom spa range goes further than just creating a relaxed, pleasurable and fulfilled environment, and has been created to help your baby develop the senses of touch, smell, sound. Tiddley Pom music helps soothe and calm both baby and mother and has been specifically composed to help improve emotional development, whilst Tiddley Pom massage builds the bond between parent and child and helps develop baby muscles and teach social behaviours, language and movement.
The gift sets are now available from leading retail outlet Debenhams and are available online at debenhams.com and 5 selected stores around the UK, including London Oxford Street, Glasgow Silverburn, Belfast Castle Court, Leeds White Rose and Thurrock Lakeside. For more information on the range simply visit tiddley-pom.com.