O2 launches Tablet Insurance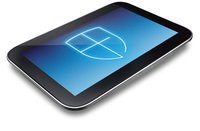 O2 has launched Tablet Insurance from O2 Money - giving customers from any network the opportunity for extensive cover and the reassurance they will be up and running quickly and easily should their tablet be lost, stolen or damaged.
Millions of people regularly use their personal tablet away from home whilst at work, commuting or on holiday making them more vulnerable to damage or loss. Kantar Worldpanel reports that 43% of tablet owners use their devices while commuting, and 36% when outdoors.
Tablet Insurance from O2 Money is available in two tiers enabling the customer to select the level of cover they'd like. The first covers stolen or damaged tablets and costs £10/month; the second covers lost, stolen or damaged tablets for £15/month. There is no minimum or maximum contract term and worldwide cover is included as standard.
Tablet Insurance from O2 Money is currently available for iPad and Samsung Galaxy tablets; this will be extended to a wider range in the near future. Customers should apply for cover before their tablet is 90 days old.
Customers should report claims to O2 Customer Services. The majority of customers with an accepted claim will receive a replacement tablet – where possible, the same make and model as the one insured – the next business day. Should the customer be abroad at the time, the replacement device will be delivered to a UK address on their return.
James le Brocq, MD of O2 Money, commented, "We urge consumers to take a little time and ensure their valuable tablets are adequately insured. We've taken care to develop this policy to ensure it provides the cover our customers expect and gets them connected again as quickly as possible. We also provide unique O2 Guru support – see o2.co.uk/money/tabletinsurance - to help customers store and back-up their data and images effectively so they can be retrieved should their tablet need to be replaced."
Enders Analysis recently reported 5 million UK tablet owners at end 2011 – a 4m increase from the end of 2010.
Tablet Insurance from O2 Money is the latest addition to a well-established range of insurance products from O2. More than half a million customers already trust O2 to insure their mobile handsets and to get them back up and running quickly and efficiently. For over 80% of accepted claims, the customer receives a replacement device the next day. The O2 Money team also recently launched O2 Wallet - the new way to send and receive money, compare prices and shop via your mobile.
For more information, visit o2.co.uk/money/tabletinsurance.