Tenerife, an island fit for Olympians and sporting heroes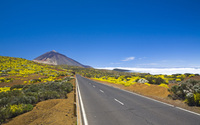 Tenerife's tourism credentials are well-known, however, with the recent visit of several promising London 2012 Olympic athletes, including Tour de France contender Bradley Wiggins, the island has further cemented its reputation as an outstanding training venue for world class athletes. The pleasant climate, excellent training facilities and unbeatable range of natural landscapes, have continuously attracted high-profile sporting heroes to the island including Lance Armstrong, triathlon world champion Alistair Brownlee, and some of the UK's top flight football teams.
Physically demanding environments such as the Teide National Park, offering pure isolation and altitudes varying between 2,000 and 3,000 metres above sea level, have proven to be challenging training grounds for cyclists, runners and climbers hoping to boost their performance in tough conditions. The latest to endure such strenuous volcanic surroundings is Bradley Wiggins, who recently completed an extreme training programme in Tenerife, in preparation for the upcoming Tour de France, starting on 30th June 2012.
The island's high performance and internationally renown training centre, T3 Tenerife Top Training, is perfectly positioned between ocean and mountains, providing an excellent base for triathlon and cycling training. Many athletes have enjoyed the very best in all year round training ahead of the Olympic milestone in July, including Alistair Brownlee, who made his Olympic debut at the Beijing 2008 Olympic Games, members of the British Gas GBR Swimming Team at Loughborough ITC, and members of the Nova Centurion Swimming Club.
Other distinguished sporting legends have chosen Tenerife as a training destination, including cyclist Lance Armstrong, rower Paul Goodison, Italian tennis player Roland Garros, German swimmer Paul Biedermann, and top beach volleyball players in Spain, Herrera and Gavira.
Carlos Alonso, Tourism Councillor at the Tenerife Island Government, commented: "Very few places in the world match the natural environment and excellent climate conditions for sporting professionals that Tenerife offers".
"The range of landscapes, including the highest peak in Spain, provide a good base for those wanting to boost their training performance further. The facilities at the T3 provide a fantastic foundation for intensive training programmes for swimming, football, Tennis and triathlon. T3 has put us on the map with visits from British football players from Newcastle, Swansea and Everton."
Just four hours from the UK, Tenerife has seen a recent boost in visitor arrival figures from the UK, with an 11% increase in 2011. Its sports and adventure facilities, along with its excellent range of accommodation options and fine cuisine have made it a number one choice for sports enthusiasts and holiday-makers alike.
For more information on Tenerife, visit webtenerife.com.