Eibach Vauxhall Astra Mk5 suspension enhancements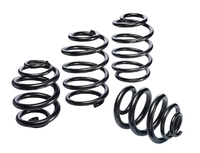 Respected suspension manufacturer Eibach has released a wide range of suspension upgrade packages for Vauxhalls's extensive Mk5 Astra Sports Hatch Range.
Vauxhall really returned to form with the pleasing lines and excellent dynamics on the Mk5, and with many cars now being well and truly out of warranty cover, many owners are looking to modify and improve them. Thanks to unparalleled access to chassis data and huge experience with Vauxhall in the BTCC, Eibach's fully TUV approved kit allows enthusiasts to lower their cars by around 30mm, improving both aesthetics and dynamics at the same time.
The springs feature unique progressive winding technology that has been optimised to work perfectly with the factory dampers. Ride quality is maintained at OEM levels, despite the car's new-found poise and handling improvement. The kit is priced at £140.00 + VAT and comes with a comprehensive 5 year warranty thanks to an industry-leading surface treatment and deep electrostatic powder coating. Each spring is pre-stressed at the factory in Germany to ensure that it will never sag later in life for a consistent ride height and peerless handling performance.
All engine variants are catered for, with different winds being tailored to suit each configuration. Everything from the humble 1.6, through to the peppy 2.0 Turbo. All diesel models also have a specific fitment. Those looking to go super-low can opt either for the -50mm 'Sportline' springs, in their distinctive red hue, or for the adjustable ride height 'Pro-Street S' package. These are priced at £135.65 + VAT and £701.74 + VAT respectively.
Also available is a range of precision machined Pro-Spacer kits that can be fitted to give any factory or aftermarket alloys a track increase of between 5 and 25mm. These hub centring spacers start at just £34.78 + VAT per pair.
As the ultimate in automotive perfection, Luton's finest and German precision engineering are doubtless a pretty hard combination to beat.
Visit eibach.com for more information.