Festival fever is upon us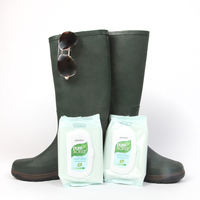 Festival fever is hyping up with summer 2012 jammed packed with a festival line up that is guaranteed to attract the crowds, from V Festival, Isle of Wight, Reading and Leeds. It is thought that 3.4 million people attend a UK festival every year , with more people than ever choosing UK festivals over abroad holidays. Once your ticket is booked prepare to get organised for the highlight of your summer, and take time out to recover as festivals can take their toll on our body!
Pack Light

When going to a festival you don't have the luxury of a suitcase to fit in all your favourite toiletries and outfits, so packing light is the key for festival girls! So here are some festival 'Must Haves':

Wipe Away - Cleansing wipes, such as Nelsons Pure & Clear Purifying Daily Facial Wipes, provide the perfect convenient solution to remove dirt and impurities whilst at festivals to help maintain a blemish-free complexion. Festival friendly wipes are the ideal essential when there just isn't enough room to take your whole skincare range. They cost 5.45 and are available from in Boots.

Sun kissed – Despite the fact that many UK festivals are plagued with rain you may be lucky and get some sun so be prepared and pack your sun lotion, after all you want to look sun kissed not sun burnt!

Luscious Locks – Showers at festivals are usually few and far between, so to stop hair looking limp and lifeless pack dry shampoo to use on your roots, and rock the messy, just out-of-bed look.

Attack the germs! – Germs are likely to be rife at a festival, and washing your hands regularly may not be a priority, or even that easy, so make sure to pack a handy sized antibacterial hand gel to kill off any unwanted bacteria.
Post Festival Recovery

Recovering from a festival is not as easy as washing off the mud, packing away the leaking tent, swapping the burger van for vegetables and exchanging the endless amount of booze for water.

Wearing wellies for hours on end while dancing and jostling in the arena and a change in diet can mean that our bodies bear the brunt of the festival experience.
Once home it is easy to throw yourself back into the daily routine, but this can leave you feeling exhausted after the initial adrenaline rush has worn off. To help combat that tired feeling, why not treat yourself to an all over pamper session. Nelsons Arnicare Bath & Massage is a unique dual purpose balm, pour just two caps to create a luxurious, lovely fragranced bath, or you can massage the balm directly into the skin to massage away aches. The invaluable natural properties of Arnica montana will help to soothe and relax you after a weekend partying whilst Calendula, Evening Primrose and Sweet Almond Oil work to naturally hydrate and nourish your skin. Costs £8.15 and is available from Boots. Visit arnicare.co.uk for more information.