Ohlins expands Road and Track range whilst reducing prices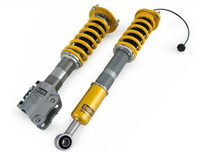 Ohlins, the highly respected suspension manufacturer, has just made a vast number of enthusiasts very happy. The Swedish motorsport suspension manufacturer has announced a 9% price reduction across the board for its Road and Track (RT) range of suspension, whilst improving upon the range of models catered for at the same time.
The RT range received critical acclaim immediately upon launch, balancing the finest materials and construction with exceptional handling and adjustment – all at a price point that was within the reach of the average enthusiast. With the ability to adjust, rebuild and tailor each unit to suit the driver's requirements, the RT range quickly became a favourite with discerning track-day aficionados and club racers looking to exploit Ohlins enviable race-winning heritage. With the advent of this latest, more streamlined pricelist, the many varied fitments offered become even more attractive.
The price reduction has been made possible solely due to the British pound's recent increase in strength against the Swedish Krona. With the pound on the rise, Ohlins Racing UK has taken the decision to pass these new cost savings, in their entirety, onto the end user, hopefully encouraging a few more discerning drivers to upgrade to the famous golden units.
"This is an important gesture for us to make to our customers," said Ohlins Racing UK Business Development Manager, Chris Witter. "While we have no plans to constantly follow tiny fluctuations in the exchange rate, we are a global company operating on the world stage, and it's very important to remain flexible and give people the product they want at a fair price point. We've made the decision to offer this pricing structure for the time being and pass these savings on, allowing our dealers to retain their usual margin, but their end-users to enjoy the fabled Ohlins performance and quality at an even more compelling price. Our pricing policy is to keep things stable wherever possible, but this can, and will, be turned to the customer's favour whenever prudent to do so."
These savings don't just apply to the current range, which includes the recently released Porsche 996 and 997 variants, as well as the Lexus IS and GS ranges, but also, later in the year, Ohlins will introduce Nissan GT-R and BMW M3 kits into the line-up. Both of these new applications will benefit from the new pricing structure.
For more information on the entire range, visit roadandtrackbyohlins.com.