A modern twist on a farm house classic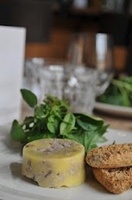 The Potted Game Company is an exciting partnership between two young and talented chefs; Jemima Palmer- Tomkinson and Rory Baxter. United by a shared passion for British food and all things culinary, they seized on the growing availability of game, which they both have a deep passion for. Combined with over 25 years of top flight cooking experience, they came up with a range of products sold online, at the legendary Borough Market and at farm shops throughout Gloucestershire.
With the Olympic Games 2012 being held in London this year, there is a hub of anticipation and excitement surrounding the city. Locals and visitors will be encouraged to become a part of the atmosphere and events. The Potted Game Company's pots containing an individual portion can add a touch of sophistication to any picnic. The seasonally sourced products can be served on warm crusty bread, or just straight to toast to make the ultimate snack or sophisticated starter.
Potting is an age-old British preserving technique, to which they have added their own unique and contemporary twist to bring this classic and practical dish back into favour. Not only does the butter preserve the meat, but it also seals in the flavours and provides a rich, silky finish. Game is often undervalued and can be a little daunting to the uninitiated. The Potted Game Company aims to promote and encourage the eating of game, the most natural and sustainable of our countryside's produce.
Jemima Palmer-Tomkinson spent two long summers hosting a Castle on the Spey. Long hours in the kitchen and an ever-changing house full of guests led to many culinary experiments, some memorable, some less so. Towards the end of her northern adventures she stumbled upon an old recipe that used potting as a preservation method for meat and the idea for potted game took shape.
Rory Baxter is a Michelin trained professional chef who works privately across Europe, but is based in Gloucestershire and runs a variety of successful culinary businesses. On returning to southern climes Jemima sought Rory's help and advice and soon enough the Potted Game Company was born. Moving to one of Rory's mobile production kitchens, the two chefs spent a great deal of time potting, packing and refining the recipes and processes until a small range of products were perfected.
Conveniently sized pots can be bought in 6 different varieties, from Potted Wood Pigeon with Walnuts and Ginger, to Potted Rabbit with Cider and English Mustard. Made using seasonally sourced products, they showcase the best of British produce.
Visit pottedgame.com for more information.