Outdated 'traditional' affiliate marketing model restricts merchant reach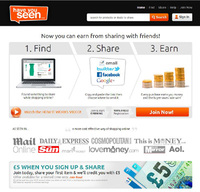 Have You Seen, part of Traffic Junction, has launched a new social sharing service that marks an evolutionary shift in affiliate marketing. The service makes consumers the new affiliate, subsequently increasing the opportunity for merchants to drive incremental, referred sales.
The Have You Seen service allows anyone with an online presence - be it email, Facebook, Twitter or Google+ to share a product or service they like and would recommend to their network of friends and followers. If the recommendation leads to a purchase, commission is earnt and can be shared between both parties. It means anyone with an email address can become an affiliate by simply sharing the rewards when recommending things they like - something that is already part of everyday life.
Dan Pearce, commercial director at Traffic Junction, comments: "We recently conducted a survey with YouGov, which revealed that 45 per cent of Brits already recommend products or services online via email or social media. By rewarding consumers for something a significant proportion of them already do, Have You Seen will further encourage this behaviour and help partner retailers to increase sales."
Bill Marjot, a marketing consultant working with 7DayShop explains: "The problem with the traditional affiliate structure is that you need to own a website. We know our current and future customers are using social media and have been looking for the right way to tap into these networks. Have You Seen offers us a platform to incentivise people who like our products to share that experience. If those individuals refer sales to us then I'm more than happy to reward them as we would any traditional affiliate."
With online sales growing every month, merchants need to ensure they are visible on social networks and encourage users of those networks to refer sales of products they advocate. Social media is part of their everyday life and now Have You Seen merchants can actively target social media user groups and encourage them to share a recommendation with their friends and followers instead of relying solely on established, increasingly expensive, channels like PPC, SEO and traditional affiliates. 1,879 retailers have already affiliated with Have You Seen including Amazon, Argos, Boots and Halfords.
Pearce concludes: "Retailers work extremely hard to offer great products and a good experience for their customers. They also pay a lot of money in commission rewarding other businesses for referred sales. Have You Seen means those same rewards are available to an individual when they share a product they have found with their friends. These represent genuine referred sales, and in this respect the business really gets back to the essence of affiliate marketing."
Watch the 'how it works video' at haveyouseen.com.