Professor Splash achieves death defying World Record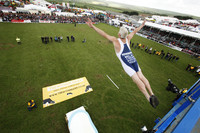 On Friday 8 June, at the Royal Cornwall Show, the world's high flying Professor Splash achieved a death defying World Record from 30ft dive into just 12 inches of the freshest Trewithen Dairy milk. Colorado-based Professor Splash has featured on TV shows across the world however he has never attempted a dive into milk – and the Trewithen Dairy dive into 12 inches of milk from happy, healthy, Cornish cows, on Friday 8th June, has therefore set a new world record.
American Darren Taylor is the talent behind Professor Splash. With more than 25 years of professional high diving experience, he has travelled the world breaking world records and entertaining millions. Professor Splash holds eight world records in five countries (Italy, Spain, Germany, Japan, and the US) and is considered the greatest stunt diver in the world. He is currently on record in both the Guinness Book of World Records and Ripley's 2009 Edition.
Trewithen is a pioneering family business and is the third largest direct milk buyer in Cornwall, with direct supplies from 20 local farms. The Royal Cornwall Show has seen the launch of a new Trewithen brand across all of its milk, clotted cream, butter and yoghurt products, and the dairy brought Professor Splash all the way from the US to make sure that no-one missed the fun. More info and imagery is available on a new website 'splash' page at trewithendairy.co.uk and on the dairy's facebook page.
Professor Splash says, "I've been diving into water for over 25 years but I've never hurtled into milk before – what a thrill, what a rush! There is a difference in the density of milk so I took this into very serious consideration. It was seriously 'pow'! And the experience of diving into Cornish milk was amazing. It was all a bit touch and go on the wind front with these crazy storms but yeh, we DID it."
Founder of Trewithen Dairy Bill Clarke said, "Oh my goodness! All I can say is what a guy. And now we have a joint Trewithen Dairy/Professor Splash world record. I can tell you, everyone at the dairy is so, so excited. Huge thanks to Professor Splash for coming all the way here to make this happen with the milk from our happy, healthy Cornish cows."
Royal Cornwall Show secretary, Christopher Riddle, is sure Professor Splash's world record attempt will generate massive interest saying, "This has been a great addition to a main ring programme that was already packed with action. The Royal Cornwall Show was definitely the right time and place for Trewithen Dairy to launch its new brand. It's been the perfect mixture of business and entertainment – and there's plenty of both going on at the show."