Be Lord of your own Tolkien housetype in Sutton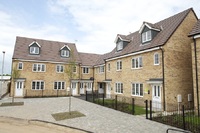 Creating communities is what Miller Homes does best and its popular Ashtree Park development at Sutton-in-Ashfield is no exception.
Residents have created a thriving community and as the development moves into a new phase there are just a few remaining plots available of the popular 'Tolkien' house type which is perfect for families.
"The 'Tolkien' home has always been a favourite with our buyers and to help the two remaining properties have included an even greater specification," said Sarah Whinfrey sales manager Miller Homes Yorkshire. "Buyers can enjoy some added extras which will help make the moving in process even more enjoyable."
The 'Tolkien', priced at £129,995, has a wonderful kitchen/dining room with French doors leading to the garden and a separate living room on the ground floor making it a delightful family space. But, it is perhaps the master bedroom on the top floor that is the crowning glory - a peaceful retreat complete with en-suite facilities to escape the hustle and bustle of everyday life. Buyers will also be pleased to hear that the property is available through the Government initiative 'FirstBuy' designed to help those who earn less than £60,000.
If you qualify you could only need a five percent deposit of the purchase price of the property. Miller Homes and the Government could give you a twenty percent equity loan meaning you could only need a mortgage of the remaining eighty percent of the purchase price meaning that you could pay from just £104,000 for a 'Tolkien' home.
"This is a stunning offer from Miller Homes and with carpets, fridge/freezer and turf to the rear garden included we think these homes will sell quickly," commented Sarah. "It's a great opportunity to secure one of these fantastic homes that are ready for you to move into."
Ashtree Park is situated in a popular residential area and is located on Kirkby Folly Road, Sutton-in-Ashfield, NG17 5HN. It is close to the Derbyshire border with some of the UK's most breathtaking countryside right on the doorstep.
For more information, visit millerhomes.co.uk.