Michelin starred chefs get together to "Save The Sea"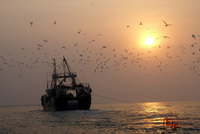 In celebration of World Oceans Day and the Rio+20 UN Conference on Sustainable Development the Environmental Justice Foundation (EJF) is partnering with a roll call of the UK's top chefs and restaurants to end 'pirate' fishing - for good.
Throughout the country, eleven fine dining restaurants are asking their guests to donate £1 to help protect our global seas and oceans by eating sustainable fish this June.
Racking up eight Michelin stars between them the supporters of EJF's campaign includes; Tom Aikens, Andrew Fairlie, Marcus Wareing, Nuno Mendes, The Wright Brothers, Tom Kitchin, Pascal Aussignac, Anna Hansen, River Cottage, Café Fish and The Duke of Cambridge.
All donations go the Environmental Justice Foundation's international campaign to protect marine environments by eradicating illegal fishing.
For hundreds of millions of people around the world, the oceans provide a crucial source of food security and livelihoods. Yet as global demand for seafood increases, the depletion of fish stocks presents a formidable threat to coastal communities in some of the world's poorest and most vulnerable countries.
By ignoring fisheries laws in protected areas and by using banned fishing gears including drift nets and longlines, pirate fishing vessels are destroying habitats and marine wildlife, including endangered turtles, whales, dolphins, seabirds and sharks. Illegal, Unreported and Unregulated (IUU) 'pirate' fishing poses one of the most severe challenges to the future protection of our oceans. EJF believes it doesn't have to be this way and this June is your chance to help 'Save the Sea'.
You can eat delicious, fresh, sustainably sourced and 'pirate-free' fish in the participating restaurants or text CHEF00£5 to 70070 to support EJF's unique work in West Africa - protecting people and planet.
Judith Swan, Director of World Oceans Day founding team at the Rio Earth Summit 1992 "EJF is an exemplary steward of our oceans; the work it has done at community level to gather information about IUU fishing is results-oriented and has been documented and broadcast in the international news media.
EJF is also a leader in galvanizing support for initiatives under consideration by the international community to combat IUU fishing, such as strengthening flag State responsibility over fishing vessels"
Marcus Wareing at The Gilbert Scott, "At The Gilbert Scott we are honoured to support the fantastic and worthwhile objectives of the Environmental Justice Foundation and their campaign for World Oceans Day 2012."
Tom Aikens "One of the reasons why we are supporting the EJF foundation is to stop the huge profits made through illegally caught fish."
Robin Hancock, Owner of The Wright Brothers (participating restaurants Soho Oyster House and Oyster & Porter House, Borough) "We are delighted to be supporting such a worthy campaign addressing the critical issue of sustainability and help the survival of the local fisherman whose lives and survival is threatened by the irresponsibility of these factory ships."
Geetie Singh at The Duke of Cambridge "EJF have always been at the forefront fish issues. They highlight crucial problems that often seemed to be ignored by others. I have been operating a sustainable fish policy for 13 years and have referenced their crucial work over and over again."
All donations go to the 'Save the Sea' campaign working to protect the marine environment, its biodiversity and the livelihoods that depend on it.
For more information, visit ejfoundation.org.
Participating restaurants include:
London
Tom Aikens Restaurant, 43 Elystan Street, London, SW3 3NT
The Wright Brothers:
Oyster & Porter House, 11 Stoney Street, Borough Market, London, SE1 9AD
Soho Oyster House, 13 Kingly Street and G7/G8 Kingly Court, London, W1B 5PW
Club Gascon, 57 West Smithfield, London, EC1A 9DS
The Duke of Cambridge, 30 St Peter's Street, Islington, London N1
Viajante, Town Hall Hotel, Patriot Square, Bethnal Green, London E2 9NF
The Modern Pantry, 47-48 St John's Square, Clerkenwell, London, EC1V 4JJ
The Gilbert Scott, St Pancras Renaissance Hotel, Euston Road, London, NW1 2AR
Rest of the UK
River Cottage, River Cottage Deli & Canteen Axminster, Trinity Square, Axminster, Devon, EX13 5AN
River Cottage Canteen & Deli Plymouth, Royal William Yard, Plymouth, PL1 3QQ
Scotland
Andrew Fairlie, The Gleneagles Hotel, Auchterarder, Perthshire, Scotland PH3 1NF
The Kitchin, 78 Commercial Quay, Leith, Edinburgh EH6 6LX