Mountain Hardwear seeks UK candidate for Mountain Academy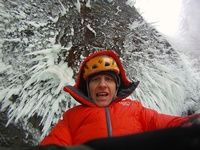 Following on from its European successes in sourcing young and hungry climbing talent, Mountain Hardwear's Mountain Academy is looking for a fresh UK face to join its ranks to complete a climbing adventure of a lifetime this June in the Franco-Swiss alps of Mont-Blanc.
A unique event, which is organised by the brand in collaboration with Black Diamond and AKU, its purpose is simple - to gather a group of young alpinists to experience unforgettable mountaineering adventures.
Accompanied by professional athlete ambassadors and mountain guides like Liv Sansoz and Samuel Anthamatten, these talented young alpine stars who are lucky enough to be chosen to attend are able to experience the very best the mountains have to offer with once in a lifetime coaching.
Now, with the final stage of the academy moving to the famously beautiful icy rock faces of Mont-Blanc, Mountain Hardwear wants to hear from UK climbers between the ages of 18 and 35 who can prove their prowess for alpinism to come forward and apply.
All interested candidates need to do is visit the brands' Facebook pages; facebook.com/TheMountainAcademy and facebook.com/MountainHardwearEurope to check for details on how to apply before June 17th and regular updates for this once-in-a-lifetime trip.
Tim Emmett, Mountain Hardwear sponsored athlete says of the search; "Mountain Hardwear is a leader in product technology and innovation and the Mountain Academy is just one demonstration of the company's support and dedication to alpinism from the grassroots. The opportunity to get a UK climber on board is incredibly exciting and the challenges and experiences which they'll get on Mont-Blanc with the rest of the team really will make their trip unforgettable."
For more information on the Mountain Academy visit themountainacademy2.wordpress.com or facebook.com/themountainacademy.