Spanish beaches break record with 638 prestigious blue flags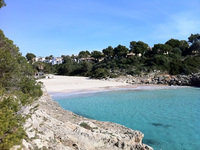 The Blue Flag beach results for 2012 are in and Spain has recorded its best ever outcome winning a total of 638 blue flags, 35 more than the 603 flags achieved last year according to the European Foundation for Environmental Education.
With 540 beaches and 98 marinas flying the prestigious flag this year, Spain has maintained its lead on all 51 territories and 46 states participating in the programme from the northern hemisphere meaning that one in six flags of the 3,774 awarded in this area will now fly in Spain.
Marc Pritchard, Sales and Marketing Manager Taylor Wimpey España, comments, "Spain has not only maintained its leadership in the Blue Flag stakes over heavyweights such as Greece and France but has actually broken its own record and we are extremely pleased that so many beaches in Spain now hold the renowned international symbol of beach excellence which takes into consideration accessibility, water quality, environmental information for beach users or respect for the law."
As well as the prestigious Blue Flag accolade which could help boost Spain's appeal and economic climate, in other tourism honors, Andalusia has been named the region with the most 'quality' beaches according to the Institute for Spanish Tourist Quality (ICTE).
A total of 174 Spanish beaches in 2012 received the 'Q' award from the ICTE, a mark which identifies the requirements that a beach must meet in relation to cleanliness of equipment, security, rescue operations, and information.
Marc Pritchard further comments, "The lasting quality of Spain's beaches continues to attract visitors from all over the world, drawn by the beautiful white sands and clear blue waters. Of course, these esteemed awards will signal good news for property owners as homes within close proximity to a Blue Flag beach will expect to retain a higher value over time and see greater rental appeal.
"The declaration from The Blue Flag programme and recognition of the Iberian nation's beautifully pristine beaches from the ICTE only confirms that Spain is the best beach capital of Europe and in my opinion, the world. Beaches across Spain continue to improve year on year and along with the relatively short flight times from anywhere in Europe, visitors will continue to flock to Spain to sample its outstanding beaches. "
For those thinking about buying a property next to a flawless Spanish beach why not take a look at what building giant Taylor Wimpey España has to offer?
Located in Marbella, Andalucía, home to the blue flag beach of Artola,?Los Robles de Los Arqueros?consists of two and three bedroom apartments orientated towards the reputed golf course, Los Arqueros. Priced at only €240,000, this development offers a children's paddling pool and adult swimming pool, communal gardens and underground parking in the glorious Costa del Sol.
El Puerto II situated in Cala d'Or, south east Mallorca has 2 bedroom apartments surrounded by generous gardens with native Balearic plants and 3 communal swimming pools. Costing from €171,500 this sophisticated complex is within reach of the blue flag beach, Cala Mondrago.
For more information, visit taylorwimpeyspain.com.