To Russia with love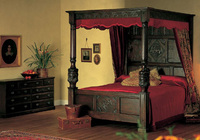 Yorkshire Dales based cabinetmaking firm Royal Oak Furniture is bucking the trend, fighting back the recession with a booming export order book, producing bespoke cabinetry for embassies and palaces as well as private residences throughout the world.
This year has already seen three overseas orders from different Russian clients and another from Israel, including the company's biggest single order in their 35-year history. It takes the value of exports to 30% of the firm's turnover.
Established in Grassington from humble beginnings in 1977 and despite the challenges of their rural location in the Yorkshire Dales National Park - generating their own electricity and with no mains water supply - the Kent family have turned their small business into an international success. They now have a global reputation for quality handmade furniture.
While the economic downturn has affected the UK furniture market massively in recent years, the export market for Royal Oak has remained buoyant. Paul Kent explains "We first started getting interest from all over the world through our furniture displays in Harrods during the 1990's and it seems that the unique level of craftsmanship and service we offer is really appreciated abroad. True cabinetmaking skills all but died out in the Eastern Bloc under communism, so beautiful, hand-carved furniture is now very highly valued in that region."
It appears that Royal Oak Furniture has carved its own niche, servicing the demand created by the new-found personal wealth in Russia and similar countries, supplying not only tables and chairs but ornate panelled rooms and four poster beds to the elite.
For further information, visit royaloakfurniture.co.uk.