New line of face care products from Payot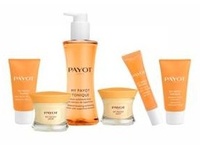 Introducing the new line of face care products from the Payot Laboratories, My Payot.
The superfruit effect; energising, moisturising, protective and delicious! My Payot's six products are all brimming with superfruits, for total indulgence of all skin types and ages.
For the first time Payot have used a duo of superfruits, both Goji berries with carotens, trace elements and flavonoids as well as the nourishing and repairing Acai berries to ensure healthy skin that is full of vitality for all. Each formula also contains an extract of active bifidus; these micro-organisms, also known as probiotics, form a protective shield for the immune system. Applied on the skin, day after day active bifidus helps reinforce our natural defences against environmental aggressions.
The daily beauty care ritual
My Payot Tonique - Radiance exfoliating lotion
Used morning and night to awaken a dull complexion and oxygenate the skin the tonique is enriched with pineapple extract, gently eliminating impurities and dead cells, letting the skin breathe.
My Payot Regard - Radiance eye contour care
An easy-to-use roll-on which can be applied at any time of day to restore the eyes' fresh, radiant look. Extracts of decongesting chamomile and regenerating Centalla asiatica take over for the Superfruits for an immediate anti-puffiness and anti-dark circles effect.
My Payot Jour - Radiance day care
This apricot-hued, melting cream is a real morning vitality booster. The complexion is instantly awakened and radiant, the skin is moisturised for the entire day. The Superfruit extracts act instantly to stimulate the circulation and help the skin regain its uniformity and luminosity.
My Payot Fluide - Radiance day care
With a no oil affect this ultra-light fluid uses the extracts alongside tapioca for a 2-in-1 action: it mattifies the complexion and boosts its radiance. Applied every morning to moisturise the skin, unify the complexion and stimulate radiance for a healthy glow all day.
My Payot Nuit - Night repairing cream
Combining both berry extracts with hazelnut extract to detoxify the skin during sleep on awakening, the skin is replenished, fortified and ready to take on a long, busy day.
My Payot Masque - Intensive radiance mask for an instant radiance boost
Once a week, or before a special evening, My Payot Masque smoothes the skin in 10 minutes flat. With its genuine luminous glow effect, this ultra-cooling mask gives the skin a real moment of relaxation to instantly restore the skin's radiance and vitality.
For further information, visit payot.com/GB/en/