Discover how to part exchange your home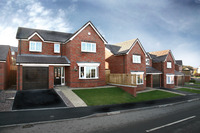 Home owners can find out how they could make a stress-free move to a new home in Tividale with a visit to Barley Fields this weekend (June 16 -17).
With only three homes still available at the select development in Poplar Rise, Elan Homes is holding a special part exchange event on Saturday and Sunday to explain how the incentive can help buyers climb the property ladder.
Marie Morris, sales director for Elan in the north, explains: "The limited availability at Barley Fields means time is of the essence and buyers must act fast to avoid disappointment as we'll soon be celebrating a sell-out success. Those with a property to sell could find they're still with a chance of moving to the popular development as we're offering part exchange to help speed up the home buying process.
"Customers won't have to worry about finding a buyer for their old home as we'll simply arrange for it to be valued. We'll then make them an offer within seven days and aim to exchange contracts within 28 days. There are no estate agent's fees to pay and no risk of getting stuck in a housing chain."
During the event estate agents, independent financial advisors and Elan's friendly sales team will be on hand to offer expert advice about moving and answer customers' questions about the home buying process.
"More than half of those who have already bought a home at Barley Fields used part exchange to help make their move, quick, simple and stress-free," Marie added. "Anyone who is looking for a new family home in Tividale should come along to the part-exchange event to discover just how easy climbing the property ladder can be."
The final three homes at Barley Fields are all four-bedroom properties, with prices from £219,995. They are all now 'build complete' and ready to move in to.
Tividale is ideally placed in a much sought-after location that offers its residents the best of both worlds. The area boasts strong road and rail links, putting the cities of Birmingham and Wolverhampton within easy reach and making the homes a haven for commuters who want to escape the hustle and bustle of the city. The stunning scenery of Shropshire and the Black Country are also easily accessible, while locally there's a good choice of schools and local amenities.
The part exchange event at Barley Fields takes place this weekend (June 16-17). For more information, visit elan-homes.co.uk.