Jamjamboree celebrates another Great British custom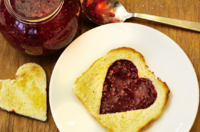 Britons are being encouraged to celebrate the much-loved tradition of afternoon tea as part of a "JamJamboree", a week-long celebration of all things to do with jam (18-24 June).
Clippy McKenna, founder of British homegrown conserves company Clippy's, has launched the JamJamboree with a competition inviting people to make their own "pimped-up" jam recipes.
People are invited to send their quirky and out-of-the-ordinary recipes to the innovative jam maker, Clippy, with the winner being offered a one-on-one tutorial with the master herself.
Clippy said: "Jam is one of those great British foods that is generally unloved, but I really think that, with this being one of our most British year's ever, we should learn to cherish it as another great tradition.
"As well as being a breakfast staple, it's an essential accompaniment to the well-loved custom of afternoon tea, but is often seen as a sidekick rather than the main event.
"As a result, most jam is often loaded with sugar and many people aren't aware of the higher quality, fragrant and fruity jams that are available.
"We hope people will get involved in the JamJamboree and help us to celebrate good quality British jam."
BBC2 Great British Bake-Off finalist Ruth Clemens will judge the JamJamboree competition entries and the winner will receive a jam tutorial from Clippy and a luxury hamper from the English Cream Tea Company, who recently set a world record for the largest English cream tea event.
All entries to the JamJamboree should be themed around afternoon tea and should be sent to competition[at]jamjamboree.org by 30 June.
For further information visit the website at jamjamboree.org/pimpmyjam.