New homes in Worcester are stylish and practical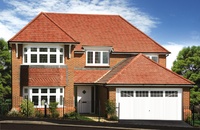 Oozing charm and character on the outside, new Redrow homes in Worcester are practical, stylish and full of all the present day essentials inside.
Designed with modern living in mind, the traditional looking homes at Kings Park boast many of the features people look for when choosing a new home including ample storage space, somewhere to keep the washing machine and open plan layouts.
The style and convenience of the executive properties can be appreciated with a visit to the newly opened Westminster show home.
Pauline Turnbull, sales director for Redrow Homes (Midlands), explains: "A recent survey carried out for the Royal Institute of British Architects echoes our own research, which helped shape our popular New Heritage Collection. We both found that homebuyers are influenced by the homes they lived in previously and want a home which has 'period' features, but is practical too.
"Our homes already offer many of the things that the RIBA report says people want and need from their home. For example, the report says people want a large main living area for eating, entertaining and relaxing and the Westminster at Kings Park enables home owners to do just that. A spacious open plan kitchen, dining area and family room spans the width of the property and is at the heart of the home.
"Another must-have is space for essential household items and in the Westminster there's a utility room which offers a convenient space that keeps the washer and dryer out of the kitchen, as well as providing additional cupboard space."
The kitchen is well-equipped with integrated top brand name appliances including oven, fridge freezer and microwave, plus tall cabinets and extra wide drawers that offer plenty of storage.
To complement the expansive open plan kitchen, dining and family room, the Westminster also features a separate lounge, offering a sense of privacy. Journey upstairs and two of the four bedrooms enjoy the convenience of en-suites, with the remaining bedrooms sharing the family bathroom.
Kings Park features a choice of four and five-bedroom executive family homes, currently from £394,995 to £469,995.
For those who want somewhere smaller, nearby Earl's Park features three and four-bedroom homes with prices from £204,995.
Both developments are within easy reach of the M5, making them a great base for commuters. The homes are also just a short journey away from the centre of Worcester with a range of high street chains and independent retailers for those who want to indulge in some retail therapy.
Visit redrow.co.uk for further information.