Helping hand for first-time buyers in Kirkby-in-Ashfield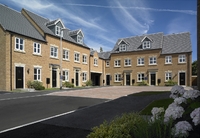 Award-winning local housebuilder Morris Homes is offering first-time buyers frustrated with rising rental costs an economical solution at its popular Kirkby-in-Ashfield development.

The average rent in the UK has increased to £868 per month and Morris is advising that now is the perfect time to consider home ownership at its exclusive Darcy Park site on Lindley's Lane.

Help is available for first-time buyers fed up of paying high rent prices in the form of the Government-led FirstBuy scheme. This allows qualifying househunters to purchase a property at Darcy Park for 80 per cent of its market value.

Cindy Vials, regional sales director at Morris Homes, said: "Rising rents make a new build property at Darcy Park the ideal option for househunters, and the FirstBuy initiative makes it easier for homebuyers to take that first step on the property ladder because it lowers the size of the deposit required and reduces mortgage payments."

New build homes at Darcy Park have the added benefit of not requiring the renovations that second hand homes need, and they are built to higher sustainability and energy efficiency standards which create long-term savings on household bills.

The properties are within a short distance of the M1, A38 and A60 so are ideal for commuting into nearby Mansfield and Nottingham.

Cindy added: "Darcy Park is an attractive prospect for new homeowners because of its great transport links and spacious, quality properties. The development is close to Kirkby-in-Ashfield town centre where a host of shops and local amenities are just a few minutes away.

"At Morris we are committed to going the extra mile for our customers, and a director will check each property before a buyer moves in to ensure everything is of the highest quality. For further peace of mind, each home comes with a 10 year NHBC warranty as standard."

Morris has a selection of two and three-bedroom properties available at Darcy Park starting from £83,950 under the FirstBuy scheme.

For more information, visit morrishomes.co.uk.