New start for Birmingham buyer in the Jewellery Quarter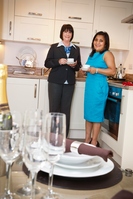 Award-winning local housebuilder Morris Homes has helped a recently divorced Birmingham buyer escape rising rental costs at its stylish Jewellery Quarter development.

With the average rent in the UK having increased to £868 per month, Kuldeep Heera, 42, a training manager, was looking for a luxury apartment to purchase and start her new life rather than getting stuck on the rental market.

Kuldeep's brother recommended The Quarter on Warstone Lane because of its fantastic location in the heart of Birmingham's bustling Jewellery Quarter, where her family has worked for many years.

Kuldeep visited the development with her mother and immediately put an offer in to reserve the stylish two-bed apartment that she had fallen in love with.

The keen interior designer, who has previously renovated and sold eight properties, worked closely with Morris to pick her ideal furniture and fixtures for her contemporary new home from its range of tailored packages.

Kuldeep said: "My parents worked in the Jewellery Quarter for many years, and when I was looking for somewhere to start a new chapter I turned to my brother for advice, who works locally on Vittoria Street.

"He suggested the apartments at The Quarter, and I haven't looked back since. The property is a great size, has excellent transport links and is close to shops, chic bars and restaurants, creating a wonderful community atmosphere, which is exactly what I was looking for.

"The development has its own gorgeous courtyard for residents, and the move has allowed me to live closer to my family and has meant I am not wasting money on rent after leaving my previous home.

"The sales team have been brilliant and really helped me put my own stamp on the apartment. I got to choose what carpets and blinds would be fitted and was able to ensure my home was just how I wanted it to be before I moved in, which was really important to me as I looked to make a new start."

Mary Birkinshaw, sales advisor at The Quarter, said: "Kuldeep quickly realised that an apartment at The Quarter was the perfect choice for her to escape escalating rental costs and to meet new people.

"It has been a pleasure to get to know Kuldeep as she settles into her new home, and we are eager to help many more new homebuyers move into their dream Jewellery Quarter apartment."

The new properties at The Quarter are ideal for first-time buyers because they do not require the same renovation costs as second hand do and are designed to higher energy efficiency regulations.

Morris has a range of options available for first-time buyers at The Quarter, including assistance with deposits, a furniture package, a carpets, blinds and appliances package and £500 towards legal fees.

Morris currently has a selection of one and two-bedroom apartments available at The Quarter starting from £109,750. The development is open late on a Thursday until 8pm.

For more information, visit thequarterbirmingham.co.uk.