USB charging without losing power from Masterplug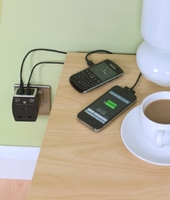 Whether you're a fan of the iPad, smart phones, PDAs, digital cameras, or all of the above, then finding enough free power sockets to charge all of your favourite gadgets may prove difficult – but not anymore.
With more and more smart gadgets now able to be charged via USB, portable power experts Masterplug are offering the ultimate in power-up flexibility, after launching a new range of clever USB Charging extension leads and adapters.
The new Masterplug USB Surge extension leads and adapters range from single sockets, ideal for bedside table use, up to 8 socket power centres suitable for the office or lounge.
The single socket adapters feature two USB ports, along with a standard plug through socket, meaning USB Devices can be charged while the plug socket is left free for use with devices.
Available in a stylish white or black gloss finish, the range is perfectly designed for use with all items in the Apple iRange. They are also ideal for charging USB devices such as digital cameras, PDA's, MP3s and other mobile and smart phones.
"The beauty of our Surge Protected USB adapters and power blocks is that they offer USB charging without tying up a plug socket, or having to switch and keep a computer or laptop on," explains Wayne Hill, Masterplug sales and marketing director.
"This means that in the bedroom for example, you can use the adapter to conveniently charge your phone or iPad at your bedside, whilst still being able to use the plug socket for a lamp, radio alarm or other electrical device."
In addition to the adapters, the multi-function USB Surge range includes Power Blocks with either 4 or 6 plug sockets, along with 4-socket in line Power Bars and 8-socket Power Centres, with each one featuring two USB sockets.
An additional benefit of the Energy Saving Power Centre is its Master/Slave functionality, which means up to 5 sockets can be automatically switched off when a Master device is turned off. This makes it ideal for a lounge TV used alongside a set top box, DVD player, Games consoles, or for a computer and equipment used in a home office.
As well as offering the ultimate in flexibility, the Surge Protected range offers protection against the risk of costly damage that can be caused by power surges.
Hundreds of power surges occur in the home and office every day. The switching on and off of fluorescent lights and household appliances, such as refrigerators, washing machines and tumble dryers, can all cause power surges and spikes.
A device that is exposed to a large energy surge will fail immediately, while low surges can cause gradual component degradation leading to early hardware failure. In the case of many new products, these failures will not be covered by product warranties.
Wayne added: "If you're spending your hard earned cash on an LED TV, laptop and the latest technology, then you want to ensure that your investment is protected - especially as electrical failures caused by power surges will often not be covered by product warranties".
"Our new Surge Protected Range can help prolong and protect the life of electrical equipment, by shielding them from the power surges and spikes that can occur on a daily basis."
Research suggests Brits are now spending an average £994 each per year getting kitted out with the latest devices. The growth in demand for smart phones has never been higher, with the iPhone 4 selling a staggering four million units in just three days following launch. The next big thing on the horizon, the Samsung Galaxy S3, has reportedly received nine million pre-orders ahead of its recent launch. There will continue to be a huge increase in the demand for flexible USB recharging and Masterplug USB Surge leads are the answer.
The Masterplug Surge Protected range offers flexible home and office solutions. Each product comes with an Unlimited Connected Equipment Warranty for peace of mind and added protection for consumer's valuable equipment.
Masterplug USB Surge Protected Extension leads - prices start from £9.99. Stockists include B&Q, Sainsburys, Currys, Homebase, Argos and Amazon.
For more information, visit masterplug.com.