Folklore, new design store, opens in London and online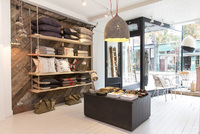 A new store that sells mindful design for home and life has launched online at shopfolklore.com, with its brick and mortar counterpart newly opened in Islington, London.
Folklore was set up by Danielle Reid and her husband Rob with a simple idea that better living is possible through design; both the online and offline shop features a selection of goods for home and life that are created with care and made to last.
Some are handmade, antique or made from recycled or found materials. Others are easily recyclable at the end of their life. All are made in an environmentally mindful way.
Danielle says: "We seek out brilliant designers and makers. Craftsmanship, quality, simplicity and durability are important to us. We source authentic, enduring goods that have purpose and will hopefully be loved, treasured and kept."
Folklore has collaborated on exclusive furniture pieces with a number of leading designers including Soren Rose Studio in Copenhagen and Hendzel+Hunt in London. Scrapwood Wallpaper by award-winning Dutch designer Piet Hein Eek, renowned for using salvaged materials, is just one of many innovative home décor items available at Folklore.
A range of Folklore cushions is also available - made in conjunction with the artist David Shillinglaw and East London's Working Well Trust charity.
Design and sustainability enthusiasts worldwide can find housewares, art, furnishings and meaningful gifts at shopfolklore.com, which ships internationally.
Folklore is located at 193 Upper Street in Islington - less than a five minute walk from Highbury & Islington tube station or 10 minutes from Angel station and is open Tuesday through Sunday from 11am - 6pm.