New homes in Stratford capitalise on Olympic legacy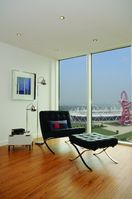 At the heart of the Olympic regeneration zone, Stratford Halo, the new flagship development by Genesis, offers a fantastic range of shared-ownership homes in one of the capital's property hotspots.
Stratford will be one of the first London Underground stations to be WiFi enabled in time for the Olympics. With the eyes of the world on London this summer, a range of infrastructure improvements in anticipation of the Olympics have helped property prices in areas close to Olympic venues increase by 14% or nearly £60,000 on average over the past year, according to new research by FindaProperty.com.
Introducing WiFi on one of the world's oldest underground transport networks will help to ensure that London remains one of the leading, modern global cities. TfL and Virgin Media have pledged to have the service installed and running at around 80 tube stations in time for the Olympics, meaning passengers will be able to connect to the internet for free.
Stratford has already become established as one of London's best-connected locations following huge investment in infrastructure and transport links. Now people who live there will not only be able to enjoy a speedy commute into central London, the City and Canary Wharf, but they will have access to live online travel information on their journeys, as well as other web-based services.
Stratford Halo occupies a prime position at the main entrance to the Olympic Park. Here first time buyers are being offered the opportunity to get a foot on the property ladder through Genesis' shared ownership scheme, in one of London's most buzzing new neighbourhoods.
The mixed-use development includes 704 new homes across five buildings, as well as retail, commercial and leisure space and workspace studios. Despite its convenient location, the development enjoys a peaceful riverside setting surrounded by landscaped grounds, which include a children's play area and a riverside promenade. Residents have access to secure underground parking spaces and a car club. The wider area will offer many other new amenities including schools, hotels, parks and health centres, all of which will help create a vibrant place to live.
In addition to the WiFi enabled Tube station served by the Jubilee and Central lines, Stratford's numerous other public transport options include the Docklands Light Railway, overland rail services (including the High Speed domestic rail services that will reach central London in just seven minutes) and in the future, a station on the Crossrail line.
Homes at Stratford Halo are selling fast - currently available are a range of one- two- and three-bedroom apartments in a variety of layouts. Each home has a spacious open plan living space and its own private balcony. Interiors are finished with a high quality specification, including designer kitchens complete with Bosch appliances, and wood-strip flooring and carpets.
Shared ownership is the perfect choice for those struggling to get a foot on the property ladder while seeking to escape London's increasing rental rates. Schemes like the one offered by Genesis are designed to help buyers who cannot otherwise afford to purchase their first property, allowing them to buy the share of their home that they can afford (at least 25%), and pay a subsidised rent on the remaining share of the property. Buyers can increase their share at any time, right up to 100% and outright ownership. It is open to buyers whose total annual household income is less than £60,000 and they should have savings of about £3,500 to cover moving and legal costs.
Prices start from £53,125 for a 25% share of a one-bedroom apartment, based on a full market value of £212,500. Two-bedroom homes start at £68,750 for a 25% in a property worth £275,000. Three-bedroom homes are priced from £87,500 for a 35% share, based on full market value of £350,000.
For more information, visit genesishomes.org.uk.