Save money on shopping with Shop Scan Save app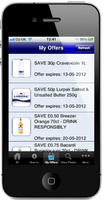 Shop Scan Save is a new way for Android and iPhone users to save money in their local convenience store. The free app, available to download now from Google Play and Apple's iTunes App Store, delivers new personalised money off deals every fortnight straight to your smartphone.
Shop Scan Save creates a unique saver ID on your smartphone. The Store Finder feature directs you to the nearest of 22,500 participating stores including: Spar; Co-op; Costcutter; Londis; Nisa; as well as thousands of independent convenience stores. Watch the video here.
Shoppers just pick out their favourite products from great brands such as Arla, P&G and Bacardi. Scan the Shop Scan® Save ID at the PayPoint machine and receive a single instant discount on all redeemed vouchers in the app. If you are the first to redeem a voucher in store then you may find an exclusive bonus voucher in your app the next day.
The app is powered by Mobilize Systems, specialists in mobile marketing innovation. Claes Kockum, Mobilize Systems Commercial Director says, "So many of us still pop down to the local convenience store for those day to day necessities and the odd treat. Using Shop Scan Save® means you can pick up top brand products, but be confident that you are getting a great deal. Because the app is smart, the more you use it the better and more relevant the deals become for you."