Pipercross launches performance air filter for Megane Mk2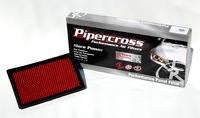 Performance filtration specialist Pipercross has added yet another core car to its 3,000-strong model portfolio; the hugely capable 2.0 16 valve turbocharged incarnation of Renault's entertaining Megane Mk2. The filter caters for both 225 and 'regular' variants.

This hand-made filtration upgrade can be fitted to any Megane. As it leaves the entire factory air box untouched, it's also a warranty and insurance-friendly improvement that enhances that character and performance of the car, without spoiling it.

Although the turbocharged variant of the Megane boasts more than respectable performance figures from the factory, it can really respond well to breathing modifications, with a panel filter and exhaust upgrade often being the first improvements that owners make. The Pipercross filter is designed to be an exact replacement for the rather asthmatic factory paper filter and uses multiple foam layers to allow up to 30% more air-flow through to the engine, improving power, torque and drivability over the stock set-up. Best of all, it's made here in the UK, in the heart of Northampton's 'Motorsport Valley'.

As well as increased flow rate, thanks to its unique multi-laminated open cell polyurethane foam construction, the Pipercross upgrade can actually filter down to a much finer rate than the OEM part, preventing any foreign particles from entering the induction tract, meaning even greater protection for the Porsche's engine. This same construction means that the filter can also go longer between service intervals than even leading cotton-gauze filters, before needing to be cleaned.

Best of all, despite these impressive abilities, the Pipercross filter comes with a lifetime warranty and can be easily cleaned again and again for re-use, providing decades of faithful service and paying for itself many times over.

The price for the filter (part number PP1619) is a very reasonable £34.99. Bearing in mind that it's the only one you'll ever need - what are you waiting for?

Visit pipercross.com for more information.