Part exchange your way to the best new address in Blackheath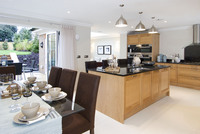 Award-winning housebuilder Millwood Designer Homes invites you to an exclusive open day for the stunning five-bed show home at Liskeard Villas on Saturday 23rd June, between 11am and 5pm.
If you have not yet found a buyer for your existing property or are concerned about the problems that can result from a property chain, then you need not worry as Millwood is offering its part-exchange scheme to allow you to move with ease.
So how does it work? Millwood will purchase your home at full market value, saving you all the hassle and uncertainty of being in a chain – not to mention the additional costs in estate agents' fees.
Sales Manager Richard Elliott is pleased to be able to offer the part-exchange scheme, saying, "By acting as the sole purchaser, Millwood will provide a fast and efficient service so that you can enjoy a smooth transaction from the initial point of contract through to completion and beyond. It makes moving stress-free as you can avoid the hassle and complications of a chain, allowing you to move as quickly as possible."
He continues, "We have offered the scheme at some of our other developments and it has always proved popular, particularly as it means that you do not have to miss out on the home you love because your existing property is yet to sell."
It is not just the part-exchange scheme that will excite potential buyers, as Richard explains, "The show home is also fully furnished and all ready to move into. It comes complete with curtains, blinds, fixed lighting, carpets, state-of-the-art audio and visual equipment, window treatments, single integral garage plus additional parking, and a beautiful landscaped garden which is exceptionally large for the area. What more could you ask for?"
Plot one is priced at £2.1m. Plot two is priced at £1.995m. Visit millwooddesignerhomes.co.uk for further information.