Therapy travel package for those with a stiff upper hip!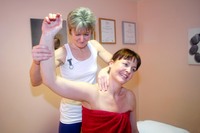 A country house hotel with a unique exercise and therapy package is standing by to assist those who have acquired a 'stiff upper hip' thanks to being thoroughly British and over-doing it during recent patriotic celebrations.
The Lindeth Howe Country House Hotel, in Bowness, has created a four-stage treatment package which gets muscles back moving, while giving a work-out to both body and mind. Its aim is to return the body to a position of well-being and former capabilities, following some form of stress or strain that has put things out of kilter.
The four stages of the treatment package are injury assessment and therapy, relaxation and movement, mind and body beauty therapies and aquatic movement. The approach to injury is holistic and effective, working with the body's natural rhythms to restore it to a fitter state.
The good news is that the package is available for residents and non-residents alike. It can be designed around the individual, but usually covers 2-3 days of intense treatment and relaxation. Those who have been through this treatment to test its effectivensess report being rejuvenated, fitter and ready to once again take up exercise, or the sport that caused their issues.
Treatments are provided by four fully trained female consultants, each with their own area of expertise. All who undergo the therapy package have their own starting point and their own goal, which the therapists will realistically attempt to attain on the patient's behalf. While they cannot make anyone an Olympic athlete overnight, they can help return the body to its own former level of fitness and achieve tangible progress in this regard.
Lindeth Howe's hotel general manager, Alison Magee-Barker says: "This is a unique package, which can assist anyone from mothers wishing to get back to fitness after pregnancy, to golfers who have strained themselves too much on the tees and cyclists who have had an injury set-back but who are keen to get back n the saddle once more.
"The four-stage process tackles the underlying issue through different types of therapy, producing a holistic approach to the fitness problem. Those who been through a programme have been delighted with their results".
The treatment programme is available for both men and women and costs £120 per day. Alternatively, it can be combined with a two-night dinner, bed and breakfast stay for £195 per person, per night in a superior room. Go to lindeth-howe.co.uk to find out more.