Beat the rainy day June blues at a all-weather Lakes attraction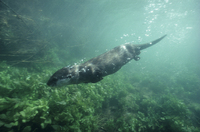 Lake District visitor attraction, Lakes Aquarium, is offering its visitors double the reason to beat the rainy-day blues this June, thanks to a programme of talks that interpret the journey of water and a discount of over 30 per cent to those buying tickets online.

The aquarium, based on the southern shore of Windermere, is an all-weather attraction, in which visitors can enjoy life in a tropical Rainforest, watch otters swimming to depths of up to 3.2 metres in the fabulous underwater tunnel and journey to the bottom of an African lake without getting wet, thanks to the world's first Virtual Dive Bell.
Added value is provided by five different exciting and fun daily talks: otter talk and feeding (10.30am and 3pm); Lake Tunnel (11am and 4pm); Morecambe Bay (11.30am and 1.45pm; Rainforest talk including creature handling (12.45pm) and Rockpool Discovery (11.45am and 2pm).
On rainy days, these talks bring to life the journey of water from the Cumbrian fells, into Windermere and out into the sea at Morecambe Bay, particularly as the attraction sits right on the lake amidst stunning Lake District scenery.
With the excitement of also learning about creatures from around other lakes of the world, and Explorer Bags that hold a variety of treats, from costumes to dress up in, to squeaky masks and webbed feet, it's one of the best wet-weather days out to be had.
On-the-door ticket prices are £8.95 for an adult, £5.95 for a child and £23.75 for two adults and two children, but buying online during June saves over 30 per cent on these prices, with other attractive online discounts the rest of the year. An adult ticket for £5.95, a child's for £3.95 and a family admission for £17.80 are not to be sneezed at, whatever the weather.
Plan your visit at lakesaquarium.co.uk remembering that your ticket will allow you to come and go as you please, all day, beating those rainy blue days with talks that might see you holding a giant land snail, or getting up close to a seashore creature with a magnifying glass.