Coastal living for less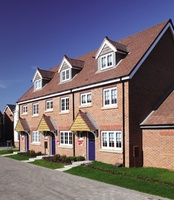 Those who long for a home close to nature and with easy access to a marina could be pleasantly surprised to find it's within their reach.
Award-winning Redrow is building new homes at various locations across the Fylde peninsular and at Harbour Village in Fleetwood is offering customers the chance to defer paying 20% of the price through its easi:buy scheme.
It means buyers could find that owning a stylish new home in a tranquil location close to the waterfront is easier to afford than they may have realised.
Julie Harper, area sales manager for Redrow Homes (Lancashire), commented: "Research by estate agents Knight Frank suggests that homes on estuaries come with a premium, which means they can cost a lot more than similar properties inland, but that's not always the case. In fact we're helping to lower the cost of living on the coast with our easi:buy scheme.
"By deferring 20% of the price for up to 10 years our customers could save more than £30,000 off the initial outlay for a four-bedroom home. Plus thanks to the improved loan-to-value ratio (LTV), lenders generally ask for a much smaller deposit."
For example a four-bedroom Kenilworth style home, on the market at £159,995 could be snapped up for an initial outlay of £127,996 with easi:buy. The remaining £32,000 of the purchase price can be deferred, interest free for 10 years.
Located on the tip of the Fylde peninsular, Fleetwood is quieter than neighbouring Blackpool, while Harbour Village itself is a hidden oasis offering a tranquil retreat away from the hustle and bustle.
Bounded by the Wyre Estuary, which is noted for its population of wintering birds, and the Fleetwood Marsh Nature Reserve, the homes are close to Fleetwood Marina.
"Research by leading academics presented to the British Psychological Society's annual conference suggests a walk on the beach has more impact on emotional wellbeing than a stroll in the park, which is great news for those make a move to harbour Village as they'll be able to enjoy the feel good factor of being beside the sea all year round," Julie added.
"Plus because our homes are easy to manage and efficient to run they won't have to waste time on the repairs and renovations that an older property may need, but will be able to make the most of the location."
Despite the serenity of the area, there are good local amenities including a supermarket, dozens of shops at Freeport Fleetwood and a choice of schools. The M55 and the North West motorway are easily accessible via the A585, which reaches into the heart of the town.
Visit redrow.co.uk to find out more.