Spice up your summer family holiday with a dance nanny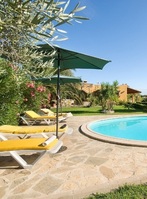 Coastline Villas are offering to spice up family holidays in Mallorca this summer with a range of exclusive dance-themed nanny services for children.

The specialist luxury villa company is serving up a dance special on the Balearic Island with nannies offering children the chance to find their dancing feet with flamenco classes, disco and Zumba sessions among a range of dance-inspired play.

Making use of the latest methods to keep children active while on their summer holidays, Coastline has put together a team of fully qualified super-nannies to help keep the children fit and healthy. This will allow parents to enjoy peace of mind on their holiday knowing that their children are having fun and are getting the most out of their holiday.

The tailored Private Nanny Service can look after the children for a morning, afternoon or entire day, help them explore the island, or further their learning with an 'education through play' afternoon.

All Coastline nannies are qualified to NNEB or equivalent, and have been working in the industry for a number of years.

The Coastline team of specialist dance nannies includes 22-year-old Jamie-Lee Phillipson, who as well as being a fully-qualified dance teacher has a BTEC Diploma in Care, and NVQ Level 3 in Children's Care and has over three years of experience as a nanny and learning assistant at a Special School.

While Jamie entertains children by helping them find their rhythm, Coastline's Island Manager Trine Bergstein has been helping kids keep sharp during the six-week summer holidays with a range of playful game related activities designed to help children learn while having fun in a safe environment such as 'Gruffalo Day'. Michael Gove has recently been talking about the six week long summer holidays where children abandon their key learning. Coastline's team incorporate more fun inspired play for mental arithmetic and language skills. This includes big foam dice pool games, number treasure hunts, and letter anagrams poolside.

Alongside activities at the villa, Coastline's nannies also offer a number of bespoke child-friendly trips across the island, to attractions such as the magnificent Dragon caves filled with mythical stories, which are some of the largest caves in the Mediterranean.
The private tailored nanny services are available in Mallorca for the summer holiday season and start from £50 for half a day in May, June, September and up to £500 for five days for three children looked after by one nanny in July and August. Rona Adam, Coastline Childcare Manager, is available to discuss each family's individual needs.

There are 14 villas to choose from in Mallorca with Coastline. Villa Olivera is constructed in a quaint, homely and welcoming style, it is spacious and well equipped. It boasts an extremely peaceful location and with the grounds enjoying stunning mountain views. The villa sleeps up 4 people and costs from £611 per person for seven nights during September, rising to £988 per person for seven nights in July & August. The price includes return flights from London to Palma airport and air conditioned car hire. A selection of UK regional airport departures is also available at a supplement. For more information, visit coastline.co.uk.