Wheelwright releases two new 'OEM+' rim designs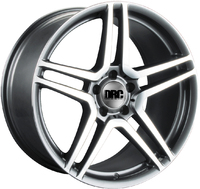 It seems like the designers and product teams at Wheelwright haven't been taking many holidays recently with a seemingly endless array of superb new wheel designs emanating from its Kent HQ. The latest two decidedly factory-looking offerings serve up 'OEM+' good looks, great size and fitment availability in two keenly priced packages.
Launched under the new DRC (Deutsche Räder Co) banner, the first design is an attractive twin 5 spoke called the DMG. Available in the popular 5x112 PCD and in 8 x18" and 9x18" widths, the DMG should find favour with the Mercedes and VAG crowds - particularly as the thinner rim size comes in both 32 and 45mm offsets, making it perfect for FWD and RWD applications, or for those looking to gain a perfect stance. With the ability to 'stagger' a 9" and an 8" together, these wheels will look brilliant on just about anything from either of these stables.
The classically styled DRM is a no-nonsense 'Y' spoke that also looks like it might have been a factory option wheel. In similar sizes, the DRM also comes in a 5 x120 PCD, making it perfect for nearly all BMW models, as well as the ubiquitous VW T5.
Both wheels are finished in Classic Silver, can take original centre caps, and RRPs start from around £100 making these a real affordable alternative to OEM upgrades and replacements.
For more information, visit wheelwright.co.uk.