Hiking and biking in Val d'Isère: New trails for summer 2012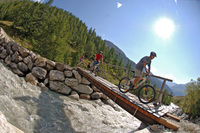 Head to the (green) slopes of beautiful French alpine resort, Val d'Isère this summer as the hills come to life to reveal lush and diverse landscapes, perfect for an exhilarating hiking or biking adventure holiday.
Summer in Val d'Isère truly is a feast of nature and a dream destination for walkers, mountaineers and cyclists alike as the Vanoise National Park, Iseran Mountain Pass and Ouillette Lake unveil peaks, valleys, rivers and lakes that could only be imagined during the snowy winter months.
Due to the huge growth in demand from mountain bikers exploring Val d'Isère, this summer will see the bike parks in Val d'Isère and Tignes merging into one fantastic, unique zone offering bike lovers the time of their lives now with the use of 5 lifts. Riders will now have access to a series of special tracks for novice and expert riders. There will be 21 downhill trails, 8 endurance runs, 2 cross-country circuits and 1 family ride plus a scattering of recreational zones with light refreshments and resting points for anyone with tired legs along the way!
From family ramblings to expert treks, there are no fewer than thirty long and short hiking trails as well as professional guides available for guests to experience the best this beautiful region has to offer. The new cultural walking route, '7 Chapel Circuit' is ideal for families with young children as it is a gentle walk that passes through the various hamlets around Val d'Isère with lots to see on the way!
For those who want a little helping hand getting to the best views, the Solaise Express Chairlift, Olympique Cable Car and Borsat Chairlift will be open every day from 30th June – 2nd September 2012. Prices from €6.50.
The Summer Gift Pass
Make the most of your stay in Val d'Isère this summer with the Summer Gift Pass available free of charge from participating hotels* from 30th June to 2nd September 2012. Pass holders can enjoy unlimited access to pedestrian and bike lifts, unlimited access to the resort swimming pool, a complimentary half-day guided ramble and a choice of 2 Sports Park activities (golf practice, shooting stand, archery or fun park.)
Alpine Special Offer
Enjoy all the mountains have to offer from as little as €65 accompanied by a professional mountain guide, including a glacier hike, canyoning and climbing trek.
Mountain Bike World Cup
Enjoy VIP access to the renowned Mountain Bike World Cup from the 25th-29th July 2012 including VIP entry, privileged access to bike tests, invitation to meet the contest champions on the 28th July and free entry to the Club des Sports raffle.
4 nights self-catering from €48 per person, 4 nights hotel bed and breakfast accommodation from €156 per person.
*Summer Gift Pass participating hotels include: Hôtel Altitude, Hôtel La Becca, Hôtel Ormelune, Hôtel les Crêtes Blanches and Hôtel Bellevue.
For more information on summer and winter activities and events in Val d'Isère or to book the above activities, visit valdisere.com.