The ginger way to stop cravings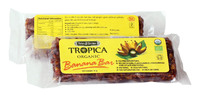 A new study on ginger consumption suggests there could be more to the spice than just flavouring your food.
The study, carried out by Columbia University in New York, looked at the effect of ginger consumption on satiety levels and its ability to speed up the metabolism in overweight subjects.
The study tested 10 men, with each having their resting state energy expenditure measured for up to 6 hours after consumption of a breakfast meal, subjective feelings of satiety assessed hourly and blood samples were taken before and then again 3 hours after consumption.
Results showed that subjects who consumed Ginger had a significantly increased metabolism due to the high thermic effects of the root, meaning the amount of energy expended above the resting metabolic rate due to the process of turning food in to energy or for storage.
What's more the same subjects showed lower hunger levels, had a lower prospective food intake and commented on a greater fullness when compared to the controls.
So if you are looking for a new and effective way to speed up your metabolism, help you lose weight and make sure you stay topped up for longer finding a way to add some ginger to your diet could just be the answer.
The best way to benefit from ginger
You could munch on a lump of ginger, but if, like most people, this isn't for you there's a tasty and convenient new way to get the benefits of ginger in the form of Natur Boutique's Banana Bar. With only two raw organic ingredients, Lady Finger Bananas and Ginger the bar is simple, but delicious making getting your daily boost of hunger busting ginger easy and delicious.
Not sure if you have heard of Lady Finger Bananas before? They are a smaller, sweeter version of the fruits we're used to in the UK and are also known as 'Date' or 'Fig bananas' because of their delicious sweet, sticky taste.
The bar not only tastes delicious, but because it's organic, natural, uses raw bananas (no cooking is involved, which can breakdown nutrients) and contains no additives, colourings, flavourings, preservatives or GMO ingredients it retains all the goodies that you'd find in a normal banana.

So if you are looking for a new way to lose weight, why not try adding ginger to your diet in the form of Natur Boutiques Tropica bars, which are specially wrapped to lock in the goodness of nature and at just £0.79 each, aren't to be missed. Visit naturboutique.co.uk for more details or ask at your local health store.